Ingredients: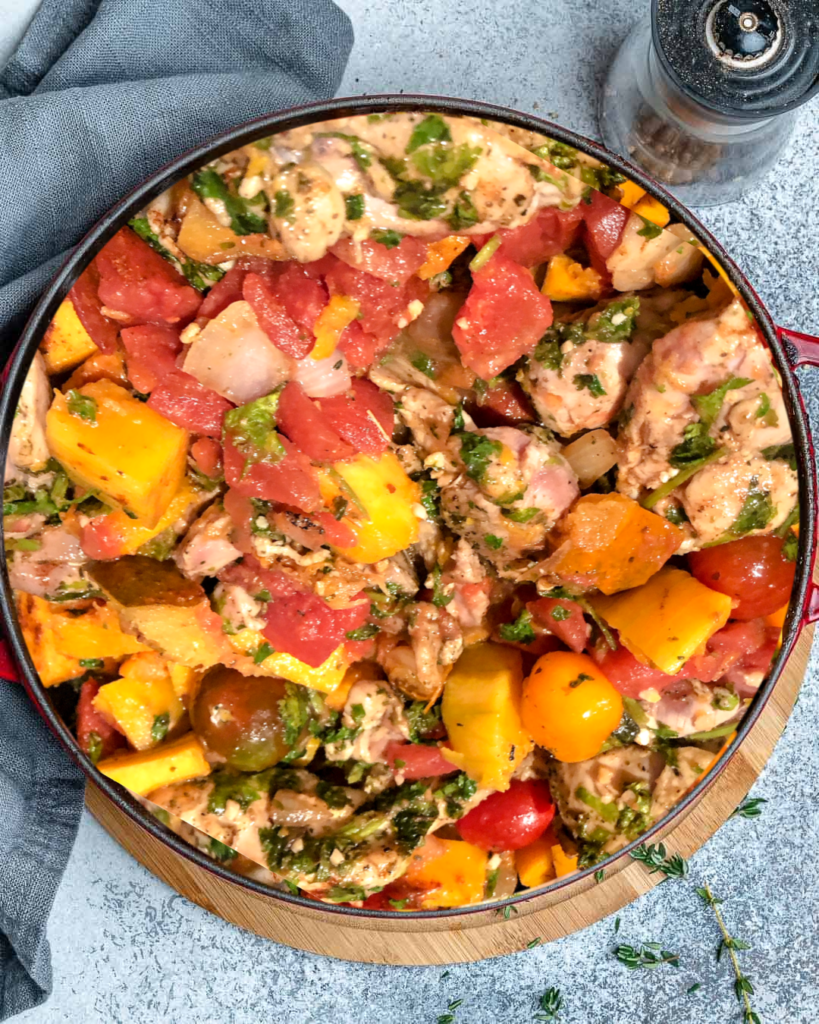 1 bunch of fresh cilantro
1 ½ teaspoons dried oregano
1 tsp cumin
Salt and pepper to taste
6 skinless, boneless chicken thighs
1 tbsp olive oil or as needed
1 large onion chopped
6 cloves garlic, chopped
2 pounds butternut squash chopped into 1-inch cubes
28 oz diced tomato or cherry tomatoes
½ cup to 1 cup chicken stock
1 ½ tsp paprika
Instructions:
Chop cilantro and combine in a large bowl with the oregano, cumin, salt, pepper, and olive oil.  Add chicken thighs and toss to coat.  Let marinate for 10 minutes.
Brown chicken thighs and then add to slow cooker.
Sauté onion and garlic and add to slow cooker.
Add remaining ingredients to slow cooker and put on low for 2-4 hours until the squash is tender, and the chicken pulls apart.
Give it a good stir and serve!
Standholders Offering These Ingredients:
Poultry & Meats:
Breakaway Farms # 65
Country Meadows Farms #45
Shenk's Poultry #18
The Turkey Lady #37
Produce:
Barr's Farm Produce #44
Brogue Hydroponics #33
Fox & Wolfe Farm # 39
Green Circle Organics #64
Groff's Vegetables #9
Stoltzfus Farms #21
Spices & Stocks:
Crowded Kitchen #5
The Herb Shop #7
Find More Recipes:
Beef Stew
Crock Pot Fresh Green Beans, Potatoes and Ham
Juicy Slow Cooker Turkey Breast
Slow Cooker Apple Crisp
Vegan Chili