Celebrate February with Market!
January 31, 2023
February may seem like a bleak month when the winter chill sets in… but don't let the weather deceive you – there is much to celebrate and fun to be had this month! We are here to warm you up and help you celebrate all month long. We are open on both Valentine's Day (Feb. 14) and Fasnacht Day (Feb. 21) with special gifts and treats you can't get anywhere else. We also have authentic cuisine to help you experience and celebrate Black History Month and we are packed with healthy foods to help you cook and eat for heart health all month during this Heart Month.
Read on for how you can stop into Market and make your February extra fun, special and memorable for you and yours!
Looking for a special gift for your loved ones this Valentine's Day? We got your covered! Flowers, treats, gifts, and gourmet ingredients to cook a lovely meal at home can all be found at Lancaster Central Market. Here's just a short list of ideas for you to shop this Valentine's Day:
Valentine Traditions to Say It With Flowers!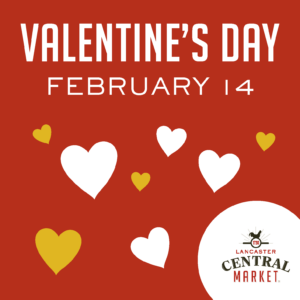 Central Market Flowers by Perfect Pots #40 – Laura and her team at Central Market Flowers will be loaded with love – in the language of flowers this month. Celebrate your favorite Valentine with a radiant array of blossoms, bouquets, and the most beautiful selection of florals. One stop will make you feel like love is in the air!
Inspirational Blossoms #13 – John will have the bouquets piled high as the sky in his Market stand on this Market Valentine's Day. Visit him for a beautifully designed arrangement or a lush bunch of fragment flowers. John also has a beautiful assortment of sweet live plants, succulents, and cacti for a long-lasting gesture of your love!
Gifts from our Makers and Creative Standholders:
Flower Garden Crafts #23 – quilting is a time-honored tradition in Lancaster County and Sally Lapp has been sharing its beauty in hundreds of choices of items from quilted wall hangings, to pillows, potholders, and more.
Forever Friends #3 – Karin Meacham has curated a dazzling variety of handmade art and glasswork from local and global artists. Forever Friends is the perfect place to find a special piece of beautiful art for your Valentine, specializing in flat glass, pottery, wooden signs, hand-painted glassware, and jewelry.
PA Dutch Gifts #43 – loving local this Valentine's Day? Look no further than the PA Dutch Gifts stand at Lancaster Central Market. From hex signs and Dutch Blitz to postcards, t-shirts, and other locally themed collectibles, PA Dutch Gifts offers an array of Lancaster-centric gifts sure to delight your #lovelocal Valentine!
Pineapple House Creations #47 – nothing sets the stage for romance than the sweet glow of candles. They are also a popular gift for the Galantines in your life! There is no finer option than the  hand-poured, clean-burning soy candles created by Market Standholder Sheryl Hazzard. She also offers a line of lotions, creams, and balms to make Valentine/Galentine shopping a total breeze this year!
Chocolates, Candy & Baked Goods:
Lancaster Pet Bakery #49 – Choose from a plethora of Valentine-themed tasty treats for your favorite furry friend. Made using fresh, human-grade ingredients, most of their treats are handmade right here in Lancaster County with fresh, local ingredients straight from Lancaster Central Market.
Miesse Candies #29 – They have been making fresh, quality chocolates in Lancaster County since 1875. The Valentine's chocolates for the ones you love are made with all-natural ingredients, such as pure vanilla, real butter, and fresh cream, with no added preservatives.
Safe & Sweet #69 – Special orders for Valentine's selections that include gluten Free, sugar Free, Grain Free, Keto Friendly, Low Carb, Celiac and Diabetic Friendly. Place orders by February 7 for Pick-up on Saturday, February 11. Preorder here!
Shady Maple #57, Uncle Leroy's Candy Kitchen (#38), Wendy Jo's (#12), and Zig's Bakery (#67) – Need something sweet for a Valentine gathering or special V-Day party? Does your Valentine have a hankering for delicious homemade cookies, a Whoopie pie, or decadent local fudge.
Visit these Market Stands for the sweetest selection this February.
The Candy Stand #24 – Take a walk back in time with a visit to Anne at The Candy Stand. Choose from an abundance of sweets in a truly dazzling array of choices. The perfect stop for a Valentine shopping trip with children to create a Market memory that will last far longer than the chocolates in their bag.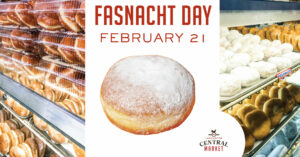 Don't miss your chance to get an authentic Fasnacht on February 21! Keep up your Fasnacht Day traditions with a visit to the Market Standholders listed below  (before they sell out!). Each of our Standholders who offer fastnachts sell the real deal – authentic and delicious!
Marley's Country Corner – Stand #53
Ric's Bread – Stand #25
Shady Maple Bakery – Stand #57
Zig's Bakery – Stand #67
Celebrate Black History Month at Lancaster Central Market with a visit to Corey Woods at Soulcialize.
Catering. Corey takes pride in the rich culinary roots of his southern-style soul food and now has a more significant forum than ever with the presence of his Soulcialize Catering – Stand #66 at The Lancaster Central Market.
Corey's food is a labor of love and a delicious lesson in history. Every forkful tells a story from the diaspora journey of African Americans, and every flavor has provenance in their communal memory. Corey will be serving up food that is good for your body, your spirit, and your soul. Add a stop to Soulcialize to your February Market list.
There are plenty of hearts at Lancaster Central Market all through the month of February. They remind us to celebrate February as American Heart Month and raise awareness of the risks of heart disease. The first step to a heart-healthy life is adding heart-healthy foods to your daily diet. Lancaster Central Market can get you started on that journey with this list of heart-healthy foods you can add to your Market basket.
Fruits and Vegetables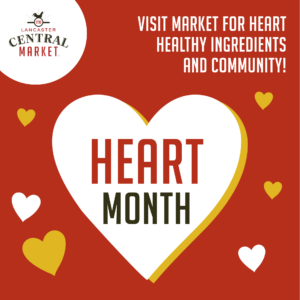 Apples
Beans & Legumes
Bell Peppers
Broccoli
Brussels Sprouts
Cabbage
Carrots
Cauliflower
Collards
Garlic
Kale
Onions
Tomatoes
Sprouts & Pea Shoots
Available from Market Standholders:
Barr's Farm Product – Stand #44
Brogue Hydroponics – Stand #33
Fox & Wolfe – Stand #39
Green Circle Organics – Stand #64
Groff's Vegetables – Stand #9
Kauffman's Fruit Farm – Stand #63
Stotzfus Farms – Stand #21
Protein
Beef – 95% lean ground
Chicken – skinless
Pork Tenderloin
Turkey – skinless
Tuna
Salmon
Available from Market Standholders:
Breakaway Farms – Stand #65
Country Meadows Farms – Stand #45
JB Kelly Seafood Connection – Stand #1
Mr. Bill's Seafood – Stand #17
Shenk's Poultry – Stand #18
The Turkey Lady – Stand #37
Olive Oil
Available from Market Standholders:
Deli Grassi – Stand #60
Saife's Middle Eastern Food – Stand #6
The Herb Shop – Stand #7
Celebrate February With Central Market!
This year – don't let February get you down, make it fun, memorable and heart-warming with stops at Lancaster Central Market! Open every Tuesday, Friday and Saturday from 6 am – 3pm, we are here to warm you up, create connections that are good for the heart and soul, and increase your well-being and quality of life all month long! See you at Market!