Ingredients: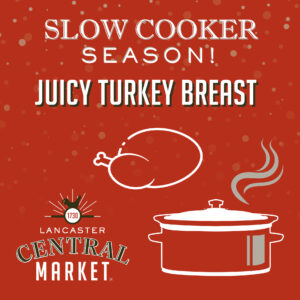 1-4 lbs turkey breast
1 head of garlic cut in half horizontally
1 large onion (brown, yellow, or white) unpeeled, cut in half
5 sprigs of fresh thyme
Rub:

1-1/2 tsp garlic powder
1-1/2 tsp onion powder
1 tsp paprika
2 tsp salt
1 tsp black pepper
2 tbsp olive oil

Gravy:

4 tbsp butter
1/4 cup flower
salt and pepper to taste
chicken broth or water (if needed)
Instructions:
Combine rub ingredients I n the small bowl and mix into a paste. Pat the turkey breast dry and slather all over with the rub, using most on the top
Place garlic, onion face down in the crock pot along with the thyme sprigs. Place the turkey on top so that it is elevated.
Cook on LOW for 6 hours until internal temperature reaches 165F degrees (check after 5 hours).
Remove the turkey breast and place in the ovenproof casserole dish, skin side up. Allow to rest for 20 minutes.
Drain the liquid from the crock pot into a measuring jug, squish the garlic to extract as much flavor and juice as possible. If you are short of two cups, add chicken broth or water to make up the difference.
Melt butter in saucepan and gradually add the flour to make a roux. Slowly add the liquid, whisking as you go to make a smooth gravy. Allow to simmer until it has thickened, add salt and pepper to taste.
Preheat the oven broiler and place the turkey breast under the broiler for a few minutes to brown and crisp the skin.
Serve with gravy and desired side dishes.
Standholders Offering These Ingredients:
Poultry & Meats:
Breakaway Farms # 65
Country Meadows Farms #45
Shenk's Poultry #18
The Turkey Lady #37
Produce:
Barr's Farm Produce #44
Brogue Hydroponics #33
Fox & Wolfe Farm # 39
Green Circle Organics #64
Groff's Vegetables #9
Stoltzfus Farms #21
Spices & Stocks:
Crowded Kitchen #5
The Herb Shop #7
Find More Recipes:
Beef Stew
Chicken & Butternut Squash Stew
Crock Pot Fresh Green Beans, Potatoes and Ham
Slow Cooker Apple Crisp
Vegan Chili