Second Annual Strawberry Festival
May 25, 2023
There is nothing like the taste of a fresh, locally grown Strawberry. And if you agree to that sentiment, you will love our Second Annual Strawberry Festival on Saturday, June 10, from 8 am to 12 pm!
The Lancaster Central Market Standholders are gearing up for this family-friendly event. You can expect a wide variety of delicious strawberry sweet & savory treats, strawberry drinks, and other strawberry delights to enjoy alongside fun kids activities, live music, and more! The event is FREE and open to anyone who wants to come. It's hosted right outside of Market so you can also head in to buy your Market favorites and some fresh local strawberries that day as well!
The Strawberry Festival is the perfect way to welcome in the summer season and celebrate the delicious fresh fruit! The event boasts an array of creative strawberry dishes, each offering their own unique take on this beloved fruit. From traditional strawberry shortcake to strawberry-topped waffles, hand-dipped chocolates to strawberry-infused beverages, there will be something for everyone to indulge in from young to old!
2023 Strawberry Festival Market Alley Stands
Amish Family Recipes, Stand #22 – Kurt's No Sugar Added Strawberry Jam, Tiff's Strawberry Poppyseed Salad Dressing, Shannon's Strawberry Jam
Breakaway Farms, Stand #65 – Tater Tot Breakfast Bowls with Scrambled Eggs, Strawberry Chorizo Sausage, or Thick Cut Bacon, Sauteed Veggies, and Kathy's Special Sauces
Crowded Kitchen, Stand #5 – Chilled Strawberry Gazpacho
Farm 2 Table Creations, Stand #56 – Breakfast Burritos, French Toast Loaf with Strawberry Chutney and Crème Anglaise, Maple Glazed Bacon
Kauffman's Fruit Farm, Stand #63 – Kauffman's Strawberry Jam, Kauffman's Cherry Berry Jam, Kauffman's Strawberry Rhubarb Jam, Kauffman's Strawberry Kiwi Jam
Maplehofe Dairy, Stand #50 – Strawberry Milk
Marley's Country Goods, Stand #53 – Individual Strawberry Shortcakes, Whoopie Pies, Jams
Miesse Candies, Stand #29 – Chocolate Covered Strawberries  and Strawberry Buttercreams
Lancaster County Coffee Roasters, Inc., Stand #29 – Chocolate Strawberry's Iced Latte – made with

Maplehofe Dairy

Strawberry Milk
Linden Dale Farm, Stand #62 – Strawberry Chevre
Oola Bowls, Stand #51 – Sourdough Toast Topped with Brie Cheese and/or Strawberry Jam
Ric's Bread, Stand #25 – Shortbread
The Candy Stand, Stand #24 – Strawberry Creams, Strawberry Slices, Strawberry-filled Hard Candy
The Goodie Shoppe, Stand #55 – Strawberry-Rhubarb Crumb Pie, Strawberry Nutella Hand Pies, Strawberry Asparagus Salad
The Turkey Lady, Stand #37 – Our Famous Turkey Lady Sausage English Muffin Sandwich
Thom's Bread, Stand #46 – Waffles With Strawberries, Chocolate & Whipped Cream
Uncle Leroy's Candy Kitchen, Stand #38 – Strawberry Cheesecake Fudge
Zig's Bakery & Cafe, Stand #67 – Strawberry Pies
In addition to the plethora of strawberry delights, the festival will feature live music and entertainment for the kids, making it the perfect event for families to enjoy and create memories on a summer day. It's a Rain or Shine event – so you can be sure to enjoy the event no matter the weather!
The Strawberry Celebration does not stop in Market Alley. Step inside the Market House, where many of our Standholders offer strawberry specials! Visit their Stands while you finish up your Market shopping!
Want to make the most out of a Lancaster County Strawberry Season?  Try some of these fabulous strawberry-inspired recipes for your family and friends, and add the ingredients to your Market list! A special thank you to Market shopper and biggest fan Donna Szczygiel for curating the list for us this year.
Strawberry Inspired Recipes
Provided by: Donna Szczygiel, Market Shopper & Biggest Fan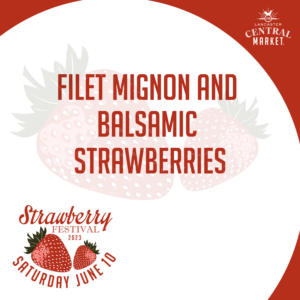 Ingredients:
2 cups strawberries, sliced
¼ cup brown sugar
¼ cup balsamic vinegar
1 tablespoon olive oil
4 (6 ounce) filet mignon (beef tenderloin)
salt and pepper to taste
1 tablespoon chilled butter
freshly ground black pepper to taste
Directions:
Mix together the strawberries, brown sugar, and balsamic vinegar in a bowl, and allow to sit for 1 to 3 hours, stirring occasionally.
Preheat an oven to 400 degrees F (200 degrees C).
Heat olive oil in an oven-safe, heavy steel or cast-iron skillet over high heat. Sprinkle the filets with salt and pepper on both sides, gently place in the hot skillet, and sear each side until well-browned, 1 to 2 minutes per side. Slide the skillet into the preheated oven, and cook until they start to become firm and are reddish-pink and juicy in the center, about 10 minutes. An instant-read thermometer inserted into the center should read 130 degrees F (54 degrees C). Transfer the steaks to a platter, and tent with foil to rest.
Pour steak juices from the skillet into a small saucepan. Strain the strawberries and discard the liquid. Add the strawberries to the steak juices, bring the sauce to a simmer over medium-low heat, and melt the butter into the sauce, tilting the pan several times to gently incorporate the butter into the sauce. Serve each fillet topped with about 1/2 cup of strawberries and a sprinkle of freshly ground black pepper.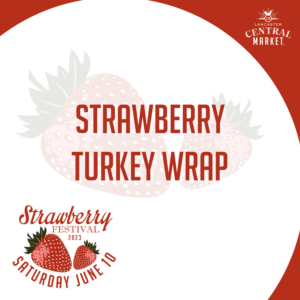 Ingredients:
1 flour tortilla
¼ cup baby spinach
4 slices roasted turkey breast (leftovers work great!)
¼ cup sliced strawberries
1 tbsp red onion chopped
1 tsp store-bought poppy seed salad dressing of your choice
1 tbsp pecans, toasted in a dry skillet on the stove on low heat for about 5 minutes being careful not to burn then chopped
Directions:
Top tortilla with roast turkey slices, spinach, strawberries and red onion.
Drizzle the poppy seed dressing over the top and sprinkle with pecans.
Roll up tortilla, starting with the bottom.
Serve immediately or wrap in plastic to keep from drying out.
Refrigerate until ready to serve.
When serving, slice diagonally in half.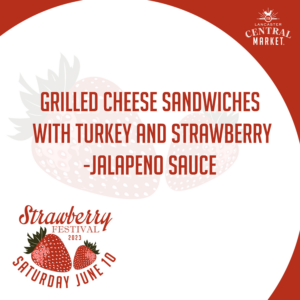 Ingredients:
Turkey:
1 boneless, skinless turkey breast
1 tbsp grape seed oil
1/4 tsp each salt and pepper
Strawberry Sauce:
2 cups chopped fresh strawberries
1 large jalapeno, finely chopped (seeds removed, if preferred)
1/2 orange, juiced
Pinch salt
Sandwich:
8 slices bread
1 cup cheese slices of your choice (Soft mild cheese such as Gouda, Swiss, Muenster or Havarti go well)
1 cup fresh baby spinach
2 tbsp butter (approx.)
Directions:
Turkey:
Preheat oven to 425°F and place turkey breast in a small baking dish.
Brush both sides with oil, and then season generously with salt and pepper.
Bake for 30-40 minutes, or until the internal temperature reaches 160°F.
Strawberry Sauce:
Meanwhile, combine the strawberries, jalapeno pepper, orange juice and salt in a small saucepan over medium-high heat.
Cook for 10 minutes, stirring often, and then reduce heat to medium-low.
Once the strawberries have broken down a bit and the mixture has reached a boil, reduce heat to low and simmer until it's thickened, stirring occasionally.
Sandwich:
To assemble, slice the roasted turkey about 2 cm thick.
Working in batches, butter one side of each piece of bread and place (buttered side down) in a large frying pan over medium-high heat.
Top with cheese, turkey, strawberry sauce, spinach and more cheese.
Cap with the remaining slices of bread (buttered side up), and then cook (grilled cheese-style) until golden brown. Slice diagonally.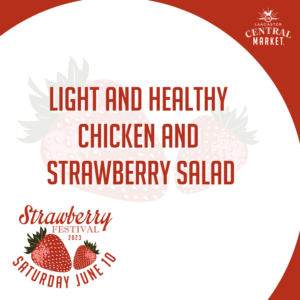 Ingredients:
Dressing:
3 tbsp golden balsamic vinegar
3 tbsp extra virgin olive oil
1 tbsp chopped shallots
1 teaspoon honey
1 teaspoon water
1/8 teaspoon kosher salt
Fresh black pepper to taste
Chicken:
16 oz boneless skinless chicken breast
1 clove garlic
1 teaspoon seasoned salt, to taste such as Montreal Steak Grill Mates
Salad:
6 cups baby spinach
3 cups sliced strawberries
2 ounces soft goat cheese
Directions:
In a small bowl which together the dressing ingredients.
Season chicken with seasoned salt, then mix in the crushed garlic.
Light the grill or indoor grill pan on medium heat, spray the pan or grill with oil and grill the chicken about 10 to 11 minutes on each side until charred on the outside and cooked through in the center.  Set aside on a cutting board and slice on an angle.
In a large bowl, toss the spinach with the dressing.  Divide between 4 plates and top with strawberries, goat cheese and grilled chicken slices.
Makes 4 servings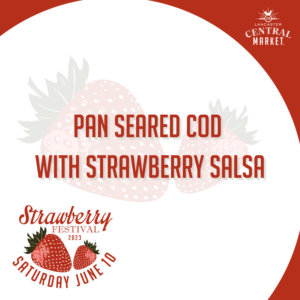 Ingredients: 
4 2-oz cod fillets or other firm white fish
1-lb fresh strawberries, washed
1/4 cup red onion, chopped
1 serrano pepper, seeded and finely chopped
25-30 fresh cilantro sprigs, washed and finely chopped
the juice of 1/2 lime
Salt and pepper to taste
2 tablespoons butter
Directions:
Salt and pepper all sides of the cod fillets. Set aside.
Remove stems from strawberries and chop them to the size of your liking, I like rough bigger pieces.
Combine strawberries, onion, serrano peppers, cilantro and lime juice. Set aside.
Put one tablespoon of butter in a large skillet and let it melt over medium-high heat.  Place two cod steaks in it and cook for 5-6 minutes on each side or until it reaches an internal temperature of 145 degrees Fahrenheit and flakes easily.
Take them out of the skillet and repeat with butter and 2 other fish steaks.
Right before serving, salt the strawberry salsa to taste. Cover each cod fillet with a generous portion of the strawberry salsa.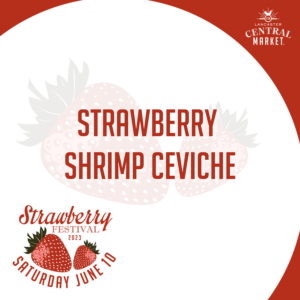 Ingredients:

Ceviche Dressing:
¼ cup chopped stemmed local strawberries
¼ cup chopped plum tomato
2 Tbsp olive oil
4 tsp fresh lime juice
4 tsp red wine vinegar
2 tsp chopped seeded jalapeño peppers
1 tsp sugar
½ tsp salt
¼ tsp Worcestershire sauce
Ceviche:
¾ lb cooked peeled shrimp
1½ cups peeled seeded diced cucumber
¾ cup diced red onion
1½ Tbsp chopped seeded jalapeño peppers
1½ cups about ¼ lb quartered, stemmed local strawberries
3 Tbsp chopped cilantro
Directions:
Ceviche Dressing:
In blender or food processor, purée all ingredients until smooth.
Ceviche:
In large bowl, toss shrimp, cucumber, onion, and peppers with Ceviche dressing.
Refrigerate, covered, at least 30 minutes but no more than 4 hours.
Just before serving, add strawberries and cilantro; mix gently but thoroughly.
Basil, goat cheese, and roasted strawberries offer a savory twist to this strawberry appetizer.
Ingredients:
Basil Syrup:
1/4 cup sugar
1/4 cup water
5 large basil leaves, torn or cut into several pieces
Crostini:
12 oz strawberries, hulled
Pinch of salt
Small baguette, sliced into 12-16 1/2-inch slices
Olive oil
4 oz goat cheese, softened
Small basil leaves, for garnish
Directions:
To make the basil syrup, heat water and sugar in a small saucepan until hot and remove from heat.
Add basil leaves and let sit 15 minutes. Discard the leaves.
To roast the strawberries, heat the oven to 300.
Place the strawberries into a small baking pan (I used an 8×8) and pour the basil syrup over top. (I used medium strawberries, if yours are very large, consider cutting them in half).
Roast for ~1 hour, until the berries have softened. Remove from the oven and set aside.
Increase oven to 425.
Drizzle the baguette slices with olive oil and bake 5-7 minutes, until golden brown.
Remove from the oven, and while still warm, spread with goat cheese.
Use a spoon to break up the berries a bit, and then scoop a spoonful onto each crostini.
Drizzle with additional basil-strawberry syrup.
Garnish with small basil leaves and serve.
Leftover basil-strawberry syrup will keep up to a week in the fridge – it's wonderful over yogurt and ice cream.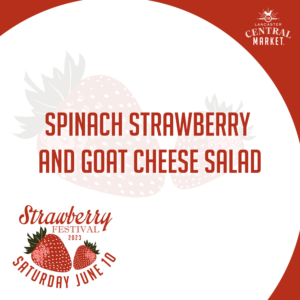 Ingredients:
Maple Glazed Walnuts:
2/3 cup walnut halves
2 Tablespoons maple syrup
Pinch salt
Maple Vinaigrette:
1 Tablespoon maple syrup
1 Tablespoon vegetable, canola or neutral cooking oil
1 1/2 teaspoon white wine vinegar
Salt and pepper
Salad:
4 oz. Baby Spinach
2 oz. Watercress, optional
Maple Vinaigrette (from above)
1/4 cup Goat cheese crumbles
Maple glazed walnuts (from above)
1 cup Sliced Strawberries
Balsamic Glaze
Freshly ground pepper
Directions:
Maple Glazed Walnuts:
Heat a skillet over medium heat on the stove-top. Add the walnut halves, maple syrup and a pinch of salt.
Cook, stirring constantly, until caramelized and toasted, about 3 minutes.
Remove to a sheet of parchment paper and using a fork, quickly separate nuts so they are not touching each other.
Allow to cool at room temperature, then store in an air-tight container in the refrigerator until needed.
Maple Vinaigrette:
Combine all ingredients in a small bowl or a jar. Stir/shake together right before pouring over greens.
Assemble the Salad:
Place some baby spinach and watercress in to a large bowl.
Shake or stir vinaigrette and drizzle a bit over the greens.
Toss until lightly moistened, then remove to serving plate or bowl.
Top salad with some sliced strawberries, goat cheese crumbles and maple-glazed walnuts.
Top with balsamic glaze and a bit of freshly ground pepper, if desired.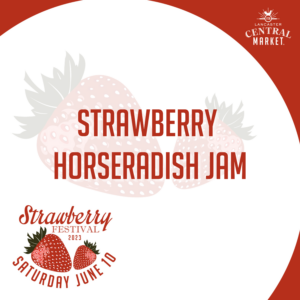 Ingredients:
Horseradish root or prepared horseradish to your taste
4 apples
1-pound strawberries
1 cup sugar
2 lemons, juiced
3 tablespoons dry pectin or ½ packet liquid pectin
Salt to taste
Directions:
Hull the strawberries and place them in a food processor.
We suggest you skip this laborious step and use the famously fresh and local horseradish that is ground right at the stand most Market Days. Add a stop to Long's Horseradish STAND #41 to your Market list for an ingredient prefered by chefs around the world!
Continue with the recipe if you prepare your own fresh horseradish. Use a vegetable peeler to peel the outer brown layer of the horseradish root off as thoroughly as you can. Depending on the pungency of the root, you may wish to use gloves. You may also substitute prepared horseradish to your taste. Roughly chop the root and place the chunks into a food processor or, alternately, add the desired amount of prepared horseradish.
Peel, core, and rough-chop the apples and add them to the food processor. Add lemon juice, then pulse until the mixture is very finely chopped.
At this point, the mixture will be pretty delicious, if strong, and can be spread on whatever you please, so taste and set aside as much as you'd like. Spoon the remainder into a deep saucepan, and heat to a gentle simmer. Stir in about half the sugar, then use a spoon to taste (cooling the mixture first, of course). Add more sugar and salt until the taste is balanced to your liking. Stir in the pectin thoroughly, then raise heat to a boil for one minute. If you like a firmer jam, feel free to add more pectin.
Remove from the heat, spoon into clean glass jars and cover tightly with a lid. The jam will keep for several weeks in the refrigerator.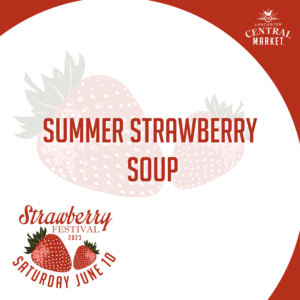 Ingredients:
2 cups vanilla yogurt
½ cup orange juice
2 lbs fresh strawberries, halved (8 cups)
½ cup sugar
Additional vanilla yogurt and fresh mint leaves, optional
Directions:
In a blender, combine the yogurt, orange juice, strawberries and sugar in batches; cover and process until blended.  Refrigerate for at least 2 hours.  Garnish with additional yogurt and mint leaves, if desired.
This is a very simple and healthy recipe that makes a stunning presentation and is a real treat on a hot summer day.
Enjoy!
Standholders Offering The Ingredients:
CHEESE & YOGURTS:
Farm2Table Creations #56
Linden Dale Farm #62
POULTRY & MEATS:
Breakaway Farms # 65
Country Meadows Farms #45
Shenk's Poultry #18
The Turkey Lady #37
FISH:
JB Kelly Seafood Connection # 1
Mr. Bill's Fresh Seafood  #17
PRODUCE:
Barr's Farm Produce #44
Brogue Hydroponics #33
Fox & Wolfe Farm # 39
Green Circle Organics #64
Groff's Vegetables #9
Stoltzfus Farms #21
SPICES, STOCKS, SYRUPS:
•   The Herb Shop #7
•   Amish Family Recipes #22
Lancaster Central Market has been a staple in the downtown Lancaster community for almost 300 years, and events like the Strawberry Festival are just one of the many ways this historic market continues to bring people together. The festival is a great opportunity to support local businesses and farmers, and the perfect opportunity to indulge in delicious local food while spending an enjoyable few hours at one of Lancaster's most beloved landmarks.
So mark your calendars for Lancaster Central Market's Second Annual Strawberry Festival on Saturday, June 10 from 8am to 12pm. With live music, plenty of food and entertainment for the kids, there's no better way to enjoy everything that our community has to offer. Don't forget to bring your appetite and your love for all things strawberry!