Whether you're looking to fill your family's Easter baskets with special sweet treats, garnish your home with the bounty of beautiful locally grown flowers or shop the absolute best ingredients to make your special Ramadan, Passover or Easter Celebration meals, Lancaster Central Market is one stop you don't want to miss to make your Spring extra special.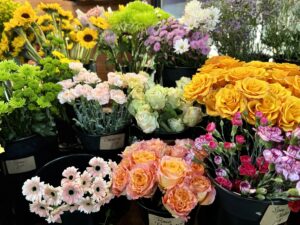 What makes Lancaster Central Market special is our history, uniqueness, quality of items you'll find and most of all the wonderful experiences and memories you'll make while you stroll and shop our stand holders each week this Spring.
Stop by this Spring Season to make memories as your shop for your gatherings. Bring home a bunch of pussy willows or beautiful flowers to adorn your homes and tables and brighten up your spaces to match the blossoming of the season. Sip a hot coffee or a cool smoothie as you stroll and enjoy and delicious breakfast baked good or hot lunch item from the abundant stands offering ready-to-enjoy goodies every Market day.
This Spring – make your holidays special and shopping for them memorable and fun by visiting Lancaster Central Market! See you at Market!
If you practice Ramadan, you may be looking forward to the meaningful and nourishing meals shared together after sunset. To stay nourished, energized and well cared for this year, try our recipes created by Omar Al Saife, Saife's Middle Eastern Food (Stand #6).
Provided by Nadia Al Saife, Saife's Middle Easter Food, Stand #6.
Makes 30
Ingredients:
1 cup fresh white bread crumbs
½ cup yogurt
3 tablespoons olive oil
½ cup pine nuts
1/3 cup white raisins soaked in hot water and drained
3 tbsp finely chopped scallions
1 close garlic, finely chopped
1 tsp ground cinnamon
1 tsp ground allspice
1 tsp salt
1 lb. ground lamb, beef, or chicken
1 tbsp oil
¼ tsp hot pepper
Instructions:
In a bowl, mix together the bread crumbs and yogurt and let to soak about 10 minutes. In a skillet, heat one tablespoon of the oil and sauté the pine nuts until lightly golden. Drain and add them to the yogurt mix.
Stir in the white raisins, scallions, garlic, spices, and salt. Add the meat and combine thoroughly using your hands. Form the meat mix into meatballs and chill them in the refrigerator for 30 minutes.
Heat the oil and and sauté the balls in batches for about 6 minutes, turning to ensure they brown all over. Keep warm while cooking.
Serve with rice.
An extremely delicious casserole of mutton, eggplant, and rice.
Provided by Nadia Al Saife, Saife's Middle Easter Food, Stand #6.
Serves 6
Ingredients:
4 lbs. lamb/mutton
2 eggplant
3 tomatoes
1 green pepper
2 lb. basmati rice
Spices – cardamom, black pepper, saffron, salt
Instructions:
Cut the lamb into small cubes and sauté in olive oil until browned on all sides. Add cardamom, pepper, then water to cover the meat and leave cooking, covered.
Cut eggplant into 1-inch-thick slices and fry in olive oil to brown on the outside.
Dissolve the saffron in a glass of water.
In a deep pot, add the lamb, eggplant, saffron liquid, salt, green pepper, tomato, rice, and water for the equivalent of two cups of water per each cup of rice. Let simmer until water is absorbed.
If you celebrate Passover, you may be eagerly anticipating the joy of the Seder meal with loved ones. Most families have well-formed customs when it comes to your Seder dinner, but if you'd like to add a new recipe to your tradition, here are a few we received from the women of Congregation Shaarai Shomayim.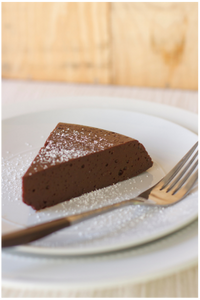 Provided by Sharon Jacobson Randozzo, Congregation Shaarai Shomayim
Ingredients:
10 ounces parve chocolate chips
1/2 cup Fleischmanns parve margarine
5 large eggs separated
1 tbsp vanilla
1/4 cup sugar
dash cocoa powder
1 tbsp powdered sugar optional
Instructions:
Preheat oven to 250º F and prepare a 9 inch springform pan by adding a circle cut-out of parchment paper to the bottom, then generously coat the bottom and sides with oil or nonstick cooking spray. Dust the pan with cocoa powder. Set aside.
Beat egg whites with mixer at high-speed until soft peaks form. Gradually add sugar and set aside.
In a microwave safe bowl, melt chocolate and margarine. Set aside.
In a separate large bowl, use a fork to beat the egg yolks and vanilla together.
Add melted chocolate mixture to the yolk mixture and mix well (by hand) until well combined.
Then, gently fold in the egg whites into the chocolate mixture, 1/3 at a time, until well combined.
Add the batter to your well-greased springform pan. Place the entire pan on a cooking sheet and bake in oven for 60-75 minutes until toothpick inserted in center comes out almost clean.
Cool in pan before removing sides of springform pan. You can either invert torte onto a cake platter or simply serve as is.
Once cake is completely cooled and before serving, top with sprinkle of powdered sugar (optional).
Notes
Serving the Cake: I have both inverted the cake onto a cake platter, and just served right side up. It doesn't matter. Whatever you prefer. I think it looks better right-side up.
Serving Size: Serve a small slice of cake to your guests. This cake is rich and fudgy, and a small slice is more than enough to satisfy those intense chocolate cravings.
Provided by Rosanne M. Selfon, Congregation Shaarai Shomayim.
Ingredients and Directions:
While making chicken soup, save chicken fat and cut into small pieces. Can be frozen if soup is made in advance; defrost to use in this recipe. Put pieces into heavy pot.
Add 4 chopped onions (not finely chopped). Bring to boil. Lower heat and boil 2 hours, scrapping pot bottom often.
Onions and skin become crisp (tasty snack called gribenes) that you drain and set aside. Hot liquid is golden and becomes solid chicken fat after it cools.
Used in making matzah balls or chopped liver. Can be frozen.
Provided by Rosanne M. Selfon, Congregation Shaarai Shomayim.
Ingredients and Directions:
Go to Long's Horseradish (Stand #41) at Central Market. Take your own container. I use a larger Tupperware container to make enough horseradish to share.
To that freshly grated horseradish, I add an entire jar of borscht after I have drained the beets. I also add 2-3 tsp of sugar, salt, pepper and 1/4 cup vinegar. Sometimes I add some red food coloring if the borscht has not turned the white horseradish sufficiently red. Also, if it is still too dry, I add additional borscht.
Immediately fill small glass jars with the horseradish and close tightly.
NOTE: Long's Horseradish will also have fresh grated red beet horseradish available for the holiday season!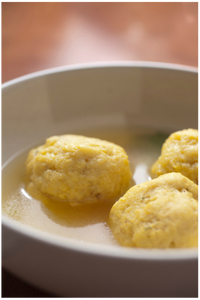 Provided by Rosanne M. Selfon, Congregation Shaarai Shomayim.
Ingredients:
2 TB. Schmaltz
2 large eggs, slightly beaten.
1/2 cup matzah meal
1/2 tsp Salt.
2 TB Soup
Directions:
Melt schmaltz. Blend schmaltz, eggs, and matzah meal. Then add and mix in soup. Refrigerate 1/2 hour. I mix in an extra egg just before forming the balls that makes balls extra light and fluffy!
NOTE: I make multiples of the recipe at one time. I use a hand mixer.
Bring very large pot of salted water to boil (balls expand as they cook). Drop small balls formed in your hand one at a time into pot. Cover pot and lower heat.
Cook at least 40-50 minutes. Often, take lid off and rotate balls top to bottom by pushing them around. Test one ball to make sure it is cooked through.
Have a large pot of soup ready and put the balls into the soup to simmer for several hours prior to serving.
Provided by Rosanne M. Selfon, Congregation Shaarai Shomayim.
Ingredients:
Syrup:
3 lb honey
6 cups sugar
5TB ginger
3 cups water
1 cup boiling water
1 cup walnut pieces
Dough:
12 lg Eggs
4 cups cake flour
6TB. Oil
Directions:
Combine honey, sugar, ginger and 3 cups water in heavy pot with cover. Mix well. Bring to boil over medium heat.
Using a hand-mixer, beat eggs and oil and then add in cake flour to make dough. It makes a soft dough. Roll into small balls in your palms and drop into boiling honey mixture. When all balls are made, cover and boil for another 20-25 minutes.
Uncover and add in walnut pieces. Continue cooking 40-50 minutes, stirring often. Cook till balls sound hollow when tapped.
Remove pot from heat and add in 1 cup of boiling water (it spits when you add the water!).
I put the balls and honey into a glass bowl to serve at room temperature for an old-fashioned dessert.
Provided by Rosanne M. Selfon, Congregation Shaarai Shomayim.
Ingredients:
1 egg/1 matzah X 8-10
1 cup sugar
1 cup sour cream
1 cup cottage cheese
1 cup apple pie filling
1/2 cup raisins
1 TB vanilla
1/2 cups milk
1 stick butter
1 tsp. Cinnamon
Pinch salt
Directions:
Break matzahs in colander and rinses with hot water; drain
Beat eggs well. Add in milk and mix. Add in other ingredients and is well. Add in matzah pieces and mix well.
Turn into a well-greased 9×13 pan. Sprinkle top with graham cracker crumbs river crushed macaroon crumbs. Sprinkle with cinnamon/sugar mixture.
Bake at 350 degrees for 1-1/2 hours. You can bake it for 1 hour. Allow it to cool and before serving, cut into pieces and heat for the last 45 minutes. Allow top to get 'crunchy' but not burned.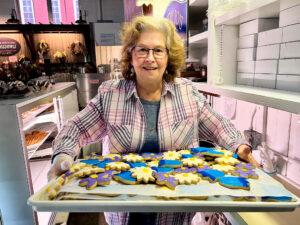 Whether you have little ones to fill baskets for or are planning a large family meal, we have all your needs and more at Lancaster Central Market! Visit our sweet treats, and baked goods stands for goodies for your children's Easter baskets. You'll find candies & chocolates that are bunny-approved at The Candy Stand (Stand #24) and Miesse Candies (Stand #29). Look for Easter-themed cookies & baked goods at Shady Maple (Stand #57), The Goodie Shoppe (Stand #55), Wendy Jo's, Zig's Bakery (Stand #12), and more!
Or if a juicy, delicious ham is the centerpiece of your holiday meal, Lancaster Central Market has plenty of choices for you to find the best in fresh & local. Choose from a wide selection of hams at Breakaway Farms (Stand #65), Country Meadows (Stand #45), and S.Clyde Weaver (Stand #34). There are endless delicious options for sides – Ric's Bread (Stand #25) and Thom's Bread (Stand #46) for your bread & rolls. Shop the freshest asparagus and green beans at our produce stands Barr's Farm Produce (Stand #44), Brogue Hydroponics (Stand #33), Fox & Wolfe Farm (Stand #39), Green Circle Organics (Stand #64), Groff's Vegetables (Stand #9), and Stoltzfus Farms (Stand #21), or buy some ready-made red beet eggs at Spring Glenn Fresh Foods (Stand #28), and more!
It's not just the food you'll find for your Easter Holiday – springtime abounds at Lancaster Central Market, and you can dress your home & table with flowers, candles, wreaths, and crafts. So, step into springtime when you step into Market for your Easter holiday shopping.
Easter mornings in Lancaster herald a bustling kitchen as families gather for a joyous celebration. After morning services, egg hunts, and baskets are complete, food becomes the day's centerpiece. We've collected some recipes you might consider for this year's holiday menus.
Standholder Holly Cumpston of The Goodie Shoppe has shared a Lancaster County favorite with her recipe for Pineapple Stuffing. Our Market foodie fan has provided us with more" Donna's Favorites" for your Easter Sunday menus. She has included a yummy breakfast casserole, beautiful main courses, side-dish options, and delicious ideas for those leftovers your family will love. Donna also added some of her family traditions with a dish she serves at every family holiday gathering.
"This side dish is delicious served with Baked Ham at Easter. Sometimes I crave this when it is not Easter time, so I make this recipe but add cubes of ham before baking. A great casserole!"
Provided by Heidi Cumpston, The Goodie Shoppe, Stand #55.
Ingredients:
1/2 cup butter, melted
1/3 cup sugar
¼ tsp salt
a pinch of nutmeg
4 each eggs
20 oz can crushed pineapple in juice (not syrup)
8-10 slices of bread, cubed
Instructions:
Preheat the oven to 350 degrees and prepare a square baking dish with non-stick spray.
In a medium bowl, combine the butter, sugar, salt, nutmeg and eggs.
Once mixed, add the pineapple and combine well.
Fold the bread cubes into the mixture.
Transfer mixture into the prepared pan and bake for 45-50 minutes.
Serve warm.
This is a very easy and delicious recipe that only requires about 15 minutes of prep work!
Don't forget to get some delicious dinner rolls, buns or bread for sandwiches later in the evening.
Provided by Donna Szczygiel, Lancaster Central Market Foodie Fan
Ingredients:
Glaze:
¾ cup packed brown sugar
¾ cup orange marmalade
½ cup Dijon mustard
Ham:
1/2 of a fully cooked ham, 6-8 lbs.
1-1/2 tsps.  whole cloves
Instructions:
Combine glaze ingredients and set aside.
Preheat the oven to 325 degrees.
Score the surface of the ham in a criss-cross fashion, forming a diamond pattern. Place a clove in the center of each diamond.
Place the ham cut side down in a shallow roasting pan and bake for 2 hours or until an instant read thermometer reads 140 degrees.
Brush the ham with the glaze and return to the oven for 45 minutes brushing more glaze on the ham every 15 minutes.
Serve remaining glaze alongside the sliced ham.
This dish is served great with the following recipes, Fresh Minted Pea Puree and Roasted Carrots.
Provided by Donna Szczygiel, Lancaster Central Market Foodie Fan.
Ingredients:
Lamb:
Marinade:
1 16-oz. container of plain yogurt
4 sprigs of fresh rosemary, leaves stripped
½ bunch of chopped parsley, stems removed
½ head of garlic, cloves peeled and smashed
1-1/2 lemons, zested
Roasting, following 24-48 hour Marinade:
¼ cup olive oil
3 tbs. Kosher salt
3 tbs. Black pepper
4 more sprigs of fresh rosemary, leaves stripped
The remaining half of the bunch of parsley, stems removed and chopped
The remaining ½ head of garlic, cloves smashed
1-1/2 more lemons, zested
Instructions:
Combine the marinade ingredients in a bowl.
Place the 6-lb. leg of lamb in the marinade, stir to coat and placed in the refrigerator for 24-48 hours.
To roast, process the olive oil, salt and pepper, rosemary, parsley ½ head of garlic cloves smashed and lemon zest in a food processor until a smooth paste forms.
Preheat the oven to 400 degrees.
Remove the leg of lamb from the marinade, rinse and pat dry.
Rub the leg of lamb with the paste.
Roast in the preheated oven for 20 minutes then reduce the temperature to 325 degrees and roast until desired doneness, 40-50 minutes for medium. Instant read thermometer should read at least 145 degrees.
Provided by Donna Szczygiel, Lancaster Central Market Foodie Fan.
Ingredients:
2 cups water or chicken stock
10 oz. fresh garden peas
¼ cup fresh mint leaves
Salt and black pepper to taste
1 tbs. butter
Chopped fresh mint leaves
Instructions:
Bring the water or stock to a boil in a medium pot.
Add the peas, fresh mint and a pinch of salt and return to a boil.
Reduce the heat and simmer until the peas are tender, about 5 minutes.
Drain the peas and mint in a colander and blend with an immersion blender to create a puree. If you don't have an immersion blender, this recipe works fine using a food processor, or a potato masher or even a fork.
Taste for seasoning and add salt and pepper as desired.
Stir in the butter and chopped mint leaves until all the butter has melted and has been incorporated into the puree.
Serve warm.
Provided by Donna Szczygiel, Lancaster Central Market Foodie Fan.
Ingredients:
1-1/2 lbs. fresh carrots, trimmed
1 tbs. honey
1-1/2 tbs. olive oil
Salt and pepper to taste
1 tbs. butter
1-1/2 teaspoons fresh dill
1 tbs. fresh chopped parsley
Instructions:
Preheat the oven to 425 degrees.
Wash carrots and dry well.
Cut carrots based on size/shape. Small garden carrots can be left whole or halved. Larger store carrots should be halved or quartered lengthwise.
Mix honey and olive oil in a small bowl.
Drizzle over the carrots, add salt and pepper to taste and mix well.
Roast carrots 20-25 minutes or until tender crisp.
Remove from the oven, toss with butter, dill and parsley. Season with salt and pepper if needed.
Serve warm.
Provided by Donna Szczygiel, Lancaster Central Market Foodie Fan.
Ingredients:
1 lb. of hot ground pork sausage
1-1/4 cups shredded parmesan
1 tsp. table salt
6 sliced green onions
12 croissants, torn into thirds
vegetable cooking spray
3 cups milk
1 cup heavy cream
5 large eggs lightly beaten
2 cups shredded Gruyere cheese
Instructions:
Cook sausage over medium heat until it crumbles and is cooked through.
Toss together sausage, parmesan, salt, green onions and the croissants.
Arrange this mixture in a 13×9 baking dish coated with cooking spray.
Whisk together milk, cream and the beaten eggs and pour over the sausage mixture.
Cover and chill dish for 8 hours.
Preheat oven to 350 degrees.
Uncover casserole, sprinkle with the gruyere cheese and bake for 45 minutes or until golden.
Let stand for 10 minutes before serving.
Provided by Donna Szczygiel, Lancaster Central Market Foodie Fan.
Ingredients:
6 large eggs
½ cup milk
¾ cup soft goat cheese, crumbled
5 oz. baby spinach, wilted and chopped
½ c up roasted red pepper, diced
2 oz. prosciutto, sliced into ribbons
Instructions:
Preheat the oven to 350 degrees.
Spray 12 cup muffin pan with nonstick cooking spray.
In a large bowl, beat eggs, milk, ¼ tsp. salt and 1/8 tsp. black pepper.
Stir in cheese, spinach and roasted red pepper.
Divide the batter among muffin pan cups, about ¼ cup in each.
Top with the prosciutto and bake for 20-25 minutes or until just set in the center.
Cool on a rack for 5 minutes, then remove from the cups.
Serve warm.
Note: Can be refrigerated for up to 4 days. Microwave on high for 30 seconds to reheat.
This is a fun and unexpected way to use up some leftover Easter ham!
Provided by Donna Szczygiel, Lancaster Central Market Foodie Fan.
Ingredients:
8 oz. spaghetti
2 Tbl. butter
½ medium onion, diced
6 ounces mushrooms, sliced
1 (10.75} ounce can condensed cream of chicken soup OR cream of mushroom soup
½ cup milk
¼ tsp. white pepper
¼ tsp. black pepper
1-1/2 cups diced ham
1 cup peas, cooked
1 cup shredded cheddar cheese
¼ cup shredded Parmesan cheese
Instructions:
Cook spaghetti according to package directions in salted water.
Melt butter in large skillet and add onion and mushrooms and cook until onion is soft and mushrooms are browned.
Add soup, milk, and both peppers to the skillet and mix well.
Add ham, peas, cheddar cheese, and parmesan cheese.
Stir and cook over medium heat until the cheese is melted.
Season to taste with salt.
Add drained pasta to the pan and mix well.
To make this dish a little spicy, you can add ½ tsp. of crushed red pepper flakes.
"My husband is of Polish descent, and at just about every holiday, I make and serve Kielbasa and Sauerkraut. The measurements of the ingredients are not as important as the flavor and texture of the dish that you wish to create. Sometimes I use more or less of the kraut and the meat. It really won't make any difference. Depends on how much you want to make. I like the sauerkraut to be very tender, brown, and caramelized for a rich and sweet flavor. I don't really have a set recipe but this is how I generally make it."
Provided by Donna Szczygiel, Lancaster Central Market Foodie Fan.
Ingredients:
2 large (32 oz.) jars of sauerkraut
1 apple, variety of your choice, peeled and cut into chunks
1 large onion, diced
Brown sugar, about ¼ cup or a little more
Unsweetened applesauce, about 1 cup
Kielbasa link, cut diagonally into about 2 inch pieces, knockwurst and hot dogs. About 1 lb total.
This makes a lot. Adjust amount according to your taste. I usually use about 1 lb. of kielbasa, a few knockwurst and a few hot dogs. This makes great leftovers and the hot dogs and kraut are delicious on a soft roll.
Instructions:
Rinse and drain the sauerkraut and put it into a disposable foil roasting pan.
Add the apple, onion, apple sauce and brown sugar and mix well.
Cover the pan tightly with foil and bake in a 350 degree oven until it begins to brown, stirring occasionally, for about an hour or so.
Uncover the dish and tuck in any combination of the kielbasa, knockwurst and hot dogs that you wish, being sure to try to cover the meat with the kraut to keep it from getting too brown.
Continue cooking until the meat is tender and it begins to smell delicious! You will know when! If we are using knockwurst, it's done when it begins to split.
Yum!! Hope you enjoy!
Standholders Offering The Ingredients:
Bread:
Amaranth Bakery #14
Ric's Bread #25
Thom's Bread #46
Eggs:
Barr's Farm Produce #44
Brogue Hydroponics #33
Fox & Wolfe Farm # 39
Green Circle Organics #64
Groff's Vegetables #9
Shenk's Poultry #18
Stoltzfus Farms #21
Poultry & Meats:
Breakaway Farms # 65
Country Meadows Farms #45
Shenk's Poultry #18
The Turkey Lady #37
Produce:
Barr's Farm Produce #44
Brogue Hydroponics #33
Fox & Wolfe Farm # 39
Green Circle Organics #64
Groff's Vegetables #9
Stoltzfus Farms #21
Spices & Stocks:
When you shop Market for the ingredients, your dishes not only support local stand holders and farmers, they taste better because everything is the highest quality and freshness!