Ingredients: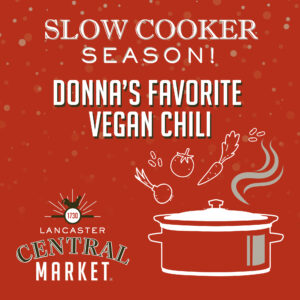 1-1/2 cups vegetable broth
1/2 cup uncooked quinoa
15 oz black beans (1 can rinsed and drained)
14 oz diced tomatoes (don't drain) or 2 cups fresh diced tomatoes
1/4 cup red bell pepper (chopped)
1/4 cup green bell pepper (chopped)
1 medium carrot (diced)
1/2 cup corn kernels
1/2 onion (chopped)
3 cloves garlic (minced)
1/2 small chili pepper
2 tsp chili powder
1/4 tsp cayenne pepper
1-1/2 tsp sea salt
1 tsp ground black pepper
1 tsp ground cumin
1 tsp oregano
Instructions:
Add the vegetable broth, uncooked quinoa, black beans, and tomatoes to the slow cooker.
Stir to combine.
Next, add the peppers, carrot, corn, onion, and garlic, and stir, then add the rest of the
seasonings and stir a few times to combine.
Cover the crockpot and set to high for 2-1/2 to 3 hours or on low for 5-6 hours.  Monitor
toward the end of the cooking time to be sure the chili doesn't stick to the pot.  If you like
a chili with more liquid, do the 2-1/2 on high and 5 on low.  If you prefer thicker, use the
longer cook times.
Taste when finished.  Add any more salt or heat if needed.  Feel free to add more veggie
broth too if you want more liquid.
After the chili is finished cooking, serve and top with your favorite toppings such as vegan
sour cream, avocado, scallion and vegan cheese or shredded carrots.
Enjoy!
Serves 6 people.
Standholders Offering These Ingredients:
Produce:
Barr's Farm Produce #44
Brogue Hydroponics #33
Fox & Wolfe Farm # 39
Green Circle Organics #64
Groff's Vegetables #9
Stoltzfus Farms #21
Spices & Stocks:
Crowded Kitchen #5
The Herb Shop #7
Find More Recipes:
Beef Stew
Chicken & Butternut Squash Stew
Crock Pot Fresh Green Beans, Potatoes and Ham
Juicy Slow Cooker Turkey Breast
Slow Cooker Apple Crisp