Celebrate March with Market!
February 27, 2023
Celebrate Saint Patrick's Day and the Budding of Spring with Central Market!
When you shop at Lancaster Central Market this Saint Paddy's Day – you can make your Market day fun for the whole family! Get all you need to cook (in an Instant Pot or Slow Cooker, no less!) a delicious Corned Beef and Cabbage, buy a special Celtic Cocktail kit, and find delightful sweet & savory Irish goodies to add to your Market Basket! Read on for recipes and fun ideas to shop local and make March 17th extra special this year.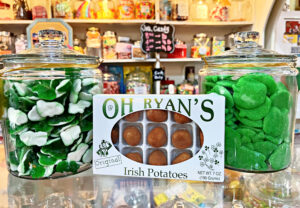 Whether you're looking all the makings for a Saint Paddy's Day feast or special fun goodies for the kids Come visit us on Saint Patrick's Day this Friday, March 17 and discover the spirit of the day in every aisle of Market!
All of our Farm Stands – visit our farm produce vendors to gather the ingredients for your Saint Patrick's Day feast. You'll find cabbage (of course), carrots, potatoes, and onions in good supply!

Barr's Farm Produce #44
Brogue Hydroponics #33
Fox & Wolfe Farm # 39
Green Circle Organics #64
Groff's Vegetables #9
Kauffman's Fruit Farm #63
Stoltzfus Farms #21

Breakaway Farms #65 – grassfed, corned beef with pickling spice packet ready for you to prepare with our Market recipe, or your own favorite!
Central Market Flowers by Perfect Pots #40 – a rainbow of blossoms to choose from to create your own Saint Paddy bouquet.
Inspirational Blossoms #13 – Pre-made bouquets, and buckets of blooms to build your own. Plus an entire field of green on our succulent shelves to carry some luck home with you!
Lancaster Distilleries #26 – Celtic Magic Cocktail Kit and other libations that will put a twinkle in your eye that fine day.
The Candy Stand #24 – Oh Ryan's Irish Potatoes, Green Frogs, Green Apples…and so many more green sweet treats!
Ric's Bread #25 – Irish Soda Bread (with or without raisins), Scones – including traditional currant or raisin, Green Muffins (because we can!) – Pistachio & Shamrock Shake!
Zig's Bakery #67 – offering St. Paddy's Chive & Cheddar Scones, Shamrock Sand Tarts, Green Sprinkle Iced Cookies
The Goodie Shoppe #55 – serving up the real deal with Lamb Hand Pies, Colcannon, Lucky O' Pasta, Chocolate Cake with Bailey's Chocolate Buttercream and go see Holly for more!
The Herb Shop #7 – sit back with a cuppa and make it Irish Breakfast Tea, of course!
This Saint Paddy's Day, Lancaster Distilleries in Stand #26 will be creating a special Celtic Magic Cocktail Kit to honor Saint Patrick's Day Weekend! Artfully distilled. Creatively crafted. Anything But Boring. Lancaster Distilleries is an award-winning Pennsylvania craft distillery. Make your festivities a little extra special by shopping this kit this Saint Patrick's Day!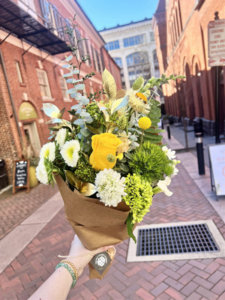 Spring can be hard to wait for this time of year… so come on into Market and get some fresh blossoms for your counter and pussy willows to brighten your spirits and enjoy the delights of spring even before it blossoms in full around town. You can also shop the first produce of spring – lettuces and more! – to enjoy delicious fresh recipes and get your Spring time fix.
Standholders Offering Flowers:
Central Market Flowers by Perfect Pots #40
Inspirational Blossoms #13
Donna's Favorite Corned Beef and Cabbage Recipe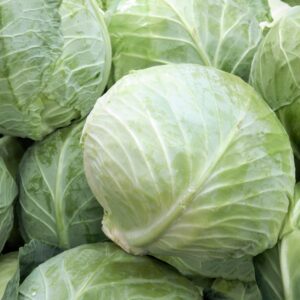 Looking for an authentic Corned Beef and Cabbage recipe to enjoy at home? We have you covered! Use this traditional recipe below from a beloved Market shopper and come into Lancaster Central Market to get the freshest ingredients – making your Saint Patrick's Day Dinner delicious and memorable!
Made in an Instant Pot. This can also be made in a Slow Cooker.
Serves 6
Ingredients:
1 Large onion, quartered.
3-4 lb. corned beef brisket (either flat cut or point cut)
4 Cups of water
1 Pickling Spice Packet (special recipe spice packet supplied by our Standholder).
Salt and pepper to taste.
4 Large carrots Cut the regular large carrots on the diagonal into 2 inch pieces
1 lb. baby potatoes (red or yellow)  Fingerling potatoes also work well.
1 Head green cabbage, quartered
Instructions:
Add the onions to the bottom of your Instant Pot.  Place the corned beef on top and sprinkle with pickling spice.
Add the water to the Instant Pot and make sure the valve is turned to seal.  Set the Instant Pot to high and cook for 80 minutes.
Once the time is up, carefully turn the valve to release and let the remaining pressure out.  Remove the beef and onions from the Instant Pot and set it aside to rest.
Take out 2 cups of the water and add the carrots, potatoes and cabbage.  Make sure the valve is turned to seal.  Turn the pressure cooker to high for 5 minutes.  Once the time is up, then release the pressure.  Once the pressure is released, slice up the meat going against the grain and serve with the veggies.  Sprinkle with chopped parsley.
NOTE:  Pick up a loaf of Irish Soda Bread to accompany this dish.  I like to dice the leftovers up the next day into hash and serve with fried eggs.  So good!
Store leftovers tightly wrapped or in an airtight container and enjoy for up to 5 days.
Can freeze for up to 5 months.
Lamb Kabobs
Recipe provided by Omar Al Saife, Saife's Middle Eastern Food (Stand #6).
Serves 6-8
Ingredients:
4 slices of bread, crusts removed and cubed (about 3 cups)
1 garlic clove, crushed
2 lb. ground lamb
2 small onions, grated
¼ cup ground cumin
½ tsp cayenne pepper
3 tbsp finely chopped parsley
1 egg
Salt and pepper
Lemon wedges
Instructions:
Place the bread in a small bowl and add enough water to dampen then, about 4-5 tablespoons. Add the garlic and with your hands, mash the bread and garlic with the water. Leave stand for 10 minutes.
In a large bowl mix together the ground lamb, grated onion, cumin, cayenne, and parsley. Work with your hands to combine. Knead in the bread paste, the egg and seasoning to taste. Until everything is mixed and the meat has absorbed the liquid.
With your hand, roll the meat into 6" to 8" long cylinder. Pass skewer through each cylinder and pat the meat to secure it. Cook the kabobs over gray ashed coals for about 20 minutes, until they are brown on all sides.
Serve with lemon wedges and rice.
Standholders Offering The Ingredients:
Bread/Irish Soda Bread:
Amaranth Bakery #14
Ric's Bread #25 (Irish Soda Bread)
Thom's Bread #46
Eggs:
Barr's Farm Produce #44
Brogue Hydroponics #33
Fox & Wolfe Farm # 39
Green Circle Organics #64
Groff's Vegetables #9
Shenk's Poultry #18
Stoltzfus Farms #21
Poultry & Meats:
Breakaway Farms # 65
Country Meadows Farms #45
Shenk's Poultry #18
The Turkey Lady #37
Produce:
Barr's Farm Produce #44
Brogue Hydroponics #33
Fox & Wolfe Farm # 39
Green Circle Organics #64
Groff's Vegetables #9
Stoltzfus Farms #21
Spices & Stocks:
Look for more seasonal recipes celebrating Spring and the events that draw us closer as a community. We will have delicious dishes to share for Ramadan, Passover, and Easter!
See You at Market This March!
Whether you come to enjoy the first fruits of Spring of make your Saint Patrick's Day extra special – we look forwarded to seeing you at Market! Lancaster Central Market is open every Tuesday, Friday and Saturday from 6am-3pm. See you At Market!