Slow Cooker Season – Beef Stew
December 15, 2022
Ingredients: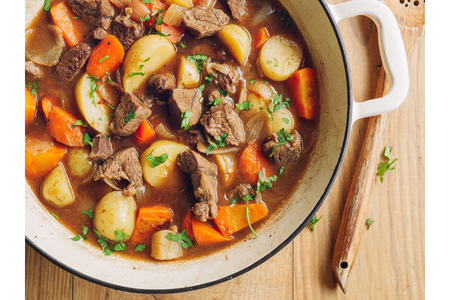 2 lbs Beef chuck
1 Bay leaves
1 Carrot, Large
4 Garlic cloves
2 tsp Thyme, Fresh Leaves
1/2 Yellow onion, Large
2 Yukon gold potatoes
2 cups Beef broth
1/4 cup Tomato paste
1 tbsp Worcestershire sauce
1/2 tsp Black pepper, Coarsely Ground
2 tbsp Gluten-free all-purpose flour
1 tsp Kosher salt
Oils & Vinegars
2 tbsp Olive oil
Instructions:
Turn on the slow cooker.
Cut up beef into small chunk sizes along with the potatoes and carrots.
Season the beef chunks on all sides with salt and pepper. Sprinkle the flour over and toss the seasoned beef to coat it on all sides.
Add the veggies, broth, spices, and all the ingredients in together at once.
Give it a nice mix.
Cook on low for 9-10 hours, medium 7-8 hours,  and high 6-7 hours.
To thicken the stew, 30 minutes before serving, remove about 1/2 cup of the liquid/sauce, mix it with about 2 teaspoons to 1 tablespoon of cornstarch. Pour it back in and allow to cook and thicken up. Remove bay leaf, serve and enjoy!
Standholders Offering These Ingredients:
Meats:
Breakaway Farms # 65
Country Meadows Farms #45
Produce:
Barr's Farm Produce #44
Brogue Hydroponics #33
Fox & Wolfe Farm # 39
Green Circle Organics #64
Groff's Vegetables #9
Stoltzfus Farms #21
Spices & Stocks:
Crowded Kitchen #5
The Herb Shop #7
Find More Recipes:
Chicken & Butternut Squash Stew
Crock Pot Fresh Green Beans, Potatoes and Ham
Juicy Slow Cooker Turkey Breast
Slow Cooker Apple Crisp
Vegan Chili