Ingredients: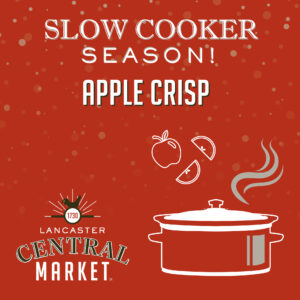 1 cup all-purpose flour
1/2 cup light brown sugar
1/2 cup white sugar
1/2 tsp ground cinnamon
1/4 tsp ground nutmeg
1 pinch of salt
1/2 cup of butter (cut into pieces)
1 cup of chopped walnuts
1/3 cup of white sugar
1 tbsp of cornstarch
1/2 tsp of ground ginger
1/2 tsp ground cinnamon
6 cups of peeled, cored, and chopped apples
2 tbsp lemon juice
Equipment:
Crock Pot
Medium Sized Bowl
Measuring Cups and Spoons
Whisk
Instructions:
Mix the first 6 ingredients in the bowl.
Add the butter combine together with your hands to make coarse crumbs.
Add the walnuts and set aside.
Whisk together the next four ingredients. Place the apples in the crock pot and sprinkle this mixture on top adding the lemon juice and toss together.
Sprinkle the Walnut crumb mixture on top. Cover and cook on high for two hours or on low for 4 hours.
Partially remove the top and let rest for an hour. This will allow the topping to harden.
All done!
Standholders Offering These Ingredients:
Poultry & Meats:
Breakaway Farms # 65
Country Meadows Farms #45
Shenk's Poultry #18
The Turkey Lady #37
Produce:
Barr's Farm Produce #44
Brogue Hydroponics #33
Fox & Wolfe Farm # 39
Green Circle Organics #64
Groff's Vegetables #9
Stoltzfus Farms #21
Spices & Stocks:
Crowded Kitchen #5
The Herb Shop #7
Find More Recipes:
Beef Stew
Chicken & Butternut Squash Stew
Crock Pot Fresh Green Beans, Potatoes and Ham
Juicy Slow Cooker Turkey Breast
Vegan Chili