Why Give to Central Market Trust?
That is a question you may be asking yourself this giving season. There are so many nonprofits in Lancaster, PA doing amazing work. Why choose to spend some of your generosity on Central Market Trust?
There are endless reasons, not only from us (we are a little biased!) but from you, your neighbors, and visitors to our county that we will share here.
You Make Central Market Possible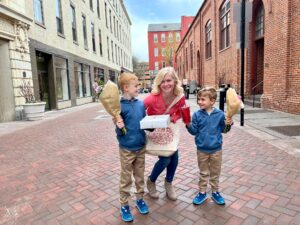 When you give to Central Market Trust, you not only help our beautiful building and standholders thrive, you help Lancaster continue to be the wonderful place that it is. Lancaster Central Market is the oldest continuously running farmer's market in America. It makes our little city as special as it is. Without Market, Lancaster would not have the vibrancy and unique quality that it does. Three days a week, our standholders prepare and bring their delights and delicacies. Local musicians often fill the air around our beautiful building with joyful tunes and countless neighbors and visitors fill our aisles creating memories, purchasing food to make their holidays or weekly dinners special, and friends & families enjoy made-to-order coffees and treats over quality conversation.
Market is a gem. It's a place that creates lasting memories. Central Market offers a unique combination of access to incredible fresh and inventive food in a historic venue that embodies everything Lancaster, PA.
Through Giving to Lancaster Central Market Trust, You Make Lancaster, PA the Wonderful Place It Is
When you give to Central Market Trust you receive in return the satisfaction of knowing that you are making the long-term sustainability of a Lancaster treasure a reality. You are making on-going memories created in Central Market possible. You're making holidays better and most importantly you're making sure the heart and personality of Lancaster that Central Market provides continues for our generation and those following us.
Can you imagine a downtown without Central Market?
Our city would be vastly different, our children would miss out on the magic and joy that it brings, our downtown coworkers would lose the lunchtime connection and vibrancy of meeting at Market and our families would lose the rich variety of foods for meals cooked at home. It is through your choice to give to Lancaster Central Market that you know our city will continue to thrive and experience all of the joy that Market brings to its visitors!
Giving to Central Market Trust Makes All that You Love About Central Market Possible
Don't merely give because you like the standholders that are housed in Market today, give because Central Market makes Lancaster what it is. Give because you know when you visit Market you gain the pleasure of fresh and inventive food to enjoy, delightful local flowers, interesting new things to taste, see and smell all in a warm and welcoming environment, and you gain the wonderful sense of satisfaction from visiting and your gifts are making those joys possible for yourself and everyone who visits Lancaster Central Market.
Central Market is a Treasure Your Donation Makes Possible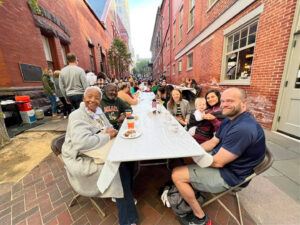 If you love Lancaster Central Market, you know it's an absolute treasure. Having Central Market in Lancaster improves not only the reputation of the City of Lancaster as it is on every visitor's "must do" list while here. It brings a gravitas to the city that very few venues do. It also is a gathering place where friends meet to shop together, eat together or just sit and catch up. It provides entertainment value and joy as well. Just watch the faces of the children while they are enthralled by the street artist sharing their talents on a Saturday afternoon.
Only Central Market has the vibrancy and vitality of a gathering place that provides access to fresh and amazing food you can only find in Lancaster. Lancaster City and County have other markets, but none provide the experience that Central Market does.
So this giving season, when you ask "Why give to Central Market Trust?" we hope you know in your spirit the good, the history, the joy that you are making possible when you answer that question.
Thank you not only for making sure Central Market exists, but for donating to help Central Market thrive and to make sure the memories and vibrancy it brings to all who visit will continue. You are the reason Central Market exists and continues to bring all that it does to our corner of the country.
In Your Own Words…. Why do you love Central Market?
This October we had the joy of asking many visitors like you why they love Lancaster Central Market. Here's what they had to say:
My name is Amy Hess, I live here in Lancaster and we love Market. My husband and my son come here almost every Saturday. It's like our Saturday morning routine!
Hi, I'm Mike, I'm from Hanover. Lived in Lancaster, currently living in Ephrata.  We used to come to market all the time for our fresh produce, prices are a little cheaper.  Love all the businesses, they are really nice and have really tasty food. 
Hi, I'm Phil, from Ephrata. Love Market because they have great bread and great veggies. 
Hi, Sarah, from outside Philly currently living in Lancaster. I love getting all the fresh bread from here.
My name is Dave. I live in Lancaster a couple blocks from here. I come to market every Market day. I come for donuts, coffee, produce… I just love market it's a great atmosphere and it's just a wonderful place.
My name is Phil, I used to manage a stand here for five years and now that I'm not doing that I just love coming back with my family and the tradition of seeing my friends and enjoying all the great food and everything Market has to offer. 
My name is Mykeema, I'm originally from New York but I live in Elizabethtown now. I drive all the way here to Central Market because I just love it! I love the people, I love how they stick with the farmland and how they love their farmland and how they want to save it. They just stick to culture and it's really nice. You get so many fresh things and so many smiling faces and I just love it!
Hi my name is Abby I'm originally from Franklin Pennsylvania and I love market because it's just a grounding place of family and food and harvest and it's a fun experience I never had growing up. 
My name is Beka. I'm from Lancaster and grew up here my entire life. I love Central Market because of the sense of community. 
I love the market because I go to college here in Millersville.  So it's like I don't really know much about Lancaster so it taught me a lot and showed me a lot of new things about the area.
My name is Kayla and I'm from Hawley,Pa.  I also go to Millersville. I like how inclusive everything is, it has something from everything, almost. I really like it.
My name is Faith, I live in the city. Market has a reliable supply of fresh and organic meat and produce. We come here as part of our weekly shopping.
My name is Sherry. We come to Market all the time since our children were very small and they are fully grown. It's a family tradition, we see the same farmers every week, they know our kids, we know theirs. It's a family, it's a great family atmosphere. We love it every week.
My name is John, I'm from Louisville Kentucky and I love the variety. 
I am Logan, I am from Lancaster and I love market because I love the environment!
Hello I am Tircuit, I am from South Florida and this marketplace is absolutely beautiful especially since everything is so fresh and organic and the prices are excellent everything is not too expensive and everything is great.
We are Caleb and Kelly we live in the city on the West End for me everything I love about the market it's the distilled version of everything that Lancaster County has to offer I grew up in Lancaster so walking around it feels like everything that I associate with Lancaster. I also enjoy all the local people visiting all the produce stands and what it has to offer. It just has everything for dairy free and vegan and it has all the options and the aesthetic is great that's just the icing on the cake and the Community it's the best
Don I'm from Lancaster and the market is friendly!
Michael and Phoebe from Austin Texas. We love the market, it is so beautiful it doesn't matter that it's a really dreary day. It's just so cozy and the food was wonderful and the people are amazing.
I'm Hayley. I'm from Redding and I just like trying to go to farmers market and trying to buy local meats and vegetables.
I am Megan, we live in Lancaster county. I like the market because its community it's a fun place and the kids love it. 
Hi I'm John from Willow Street I've been coming down to Market for 60 years. I came with my grandmother. She was from the southern end and we've always had a lovely experience. We love the fresh produce, fresh baked goods, just can't top it!
Bernard, Delray Beach Florida. We came up to visit the Sight and Sound Experience and this is part of our itinerary. We prioritize coming here and if I lived here I'd come here on a regular basis. 
So Lancaster market to me means home. I grew up in Lancaster County and now live near Toronto, Canada. But I love coming to market. We come here every time we come to Lancaster, about four or five times a year and every time we're here, we come here.
My name is Charlotte and I am from Millersville PA.  I love the market because there are so many different options and you get to walk around and everyone is so happy here. 
I'm Olivia. I'm from Millersville and I love the market because everything is so fresh.
My name is Hamish, I love the market because there are so many different choices to make and everything is super good. 
Faith from Conestoga PA. I love the market because everything is fresh. 
Marilyn from Philly. Central Market is a great place to obviously get a lot of local farm to table things-you have everything here. You have meat, you have cheeses. You have all kinds of food, you have flowers and so you have a lot of vendors here selling their wares and I just love that it comes from not too far away from here which is just incredible.
See You At Market!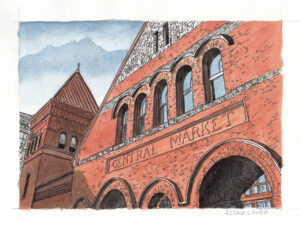 Giving is a personal act, so we hope you give, but even if you don't we look forward to seeing you at Market… because that's why we exist! This holiday season, join us for all of the festive foods, smells and delights. Come on Saturday mornings to be serenaded by holiday tunes. Come during ExtraGive to have fun with us in the morning and even join us at Decades in the evening. Come during the Mayor's Tree Lighting when Market is open late. And come for your holiday shopping to create meals that will fill your homes and hearts with the joy and deliciousness of fresh local flavors. We are here for you – to help you make the memories and experience the depth of all that Lancaster has to offer! See you at Market this holiday season!