Autumn Harvest Bounty – Farm Fresh Recipe
October 15, 2022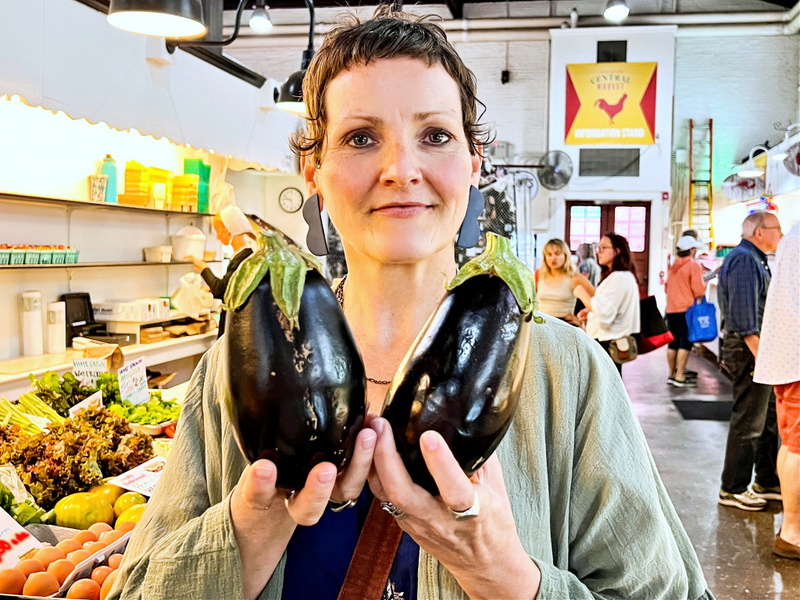 Our faithful Market shopper, Alicia Byler, co-owner of Telltale Dress.
Season's Final Bounty: a Farm-Fresh Favorite
The eggplant harvest will take its final bows in October, so now is the time to gather the season's last bounty of this farm-fresh purple produce. Eggplant is such a versatile vegetable. You can mash, grill, bake, stuff, or stir-fry it with your other favorite veggies. Our Mystery Market Chef fell back to a classic recipe.
Eggplant Parmesan
INGREDIENTS:
¼ cup Olive oil
2 medium to large Eggplants
1 Large Yellow Onion
6 oz Mushrooms (baby portabellas or cremini)
3-4 Garlic cloves
15oz can of tomato sauce (I use a pint of our homemade marinara sauce)
(if using canned tomato sauce, add: 1 tsp of dried basil and 1 tsp dried oregano)
Salt and black pepper to taste
2, ½ lbs. balls of good quality Mozzarella cheese
½ cup of grated Parmesan cheese
¼ cup of Panko breadcrumbs
EQUIPMENT:
Measuring cups
Measuring spoons
Sharp 8" knife
Garlic mincer
Vegetable Peeler
Basting brush
Large skillet
Shallow baking pan
2-quart casserole dish
DIRECTIONS:
Gather your ingredients
1.       Preheat the oven to 425 degrees F (220 degrees C)
2.       Prepare the eggplant: with the vegetable peeler, peel just 4-5 intermittent strips, lengthwise, of the eggplant skin then cut into ½" slices.
3.       Chop the yellow onion into ½" dice
4.       Slice the mushrooms ¼" thick
5.       Mince the garlic cloves
6.       Slice the Mozzarella cheese ¼" thick
7.       Arrange the eggplant slices into a single layer on the baking pan and brush the tops with Olive oil and bake 20-25 minutes until the eggplant is tender and slightly browned
8.       Remove the eggplant and reduce the oven temperature to 350 degrees F (175 degrees C)
9.       Make the sauce: While the eggplant is in the oven, heat the remaining olive oil in the skillet and add the onions and mushrooms, cook and stir until the onions are softened, and the mushrooms have released their juices (8-10 minutes) Add the garlic and cook for another minute then add the tomato sauce, herbs and bring to a boil, reduce heat and simmer for ten minutes.
10.   Add salt and pepper to taste
11.   Arrange half of the eggplant slices in the casserole dish. Top with half of the sauce, half of the mozzarella, and half of the parmesan. Repeat a second layer. Sprinkle the breadcrumbs over the top.
12.   Bake for about 25 minutes until hot and bubbling. Remove and allow to cool for five minutes before serving.