2020 Holiday Happenings at Market
November 13, 2020
It is hard to believe but the holiday season is upon us. While things may still look different, our standholders are prepared to greet you this season at Market with fresh local food, goods, and plenty of cheer.
In preparation for Thanksgiving, we will be adding an extra day to the Market week. Our hours will be: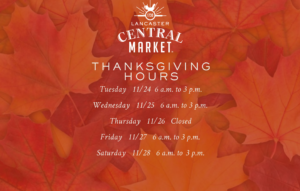 Tuesday, November 24th, 6 am – 3 pm
Wednesday, November 25th, 6 am – 3 pm
Friday, November 27th, 6 am – 3 pm
Saturday, November 28th, 6 am – 3 pm
Brightening the holiday spirit beginning November 22nd the Central Market Trust, Standholders Associations, and LEADs have partnered to "Deck the Market".  Enjoy the decorated stands while seeing pictures of Market's rich history along the southern windows. It is our hope that this festive display will help lead us into a brighter 2021.
Hours for Christmas and New Year's will look a little different. Our hours will be: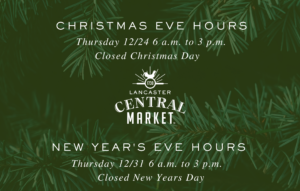 Tuesday, December 22nd, 6 am – 3 pm
Thursday, December 24th, 6 am – 3 pm
Friday, December 25th, Closed
Saturday, December 26th, 6 am – 3 pm
Tuesday, December 29th, 6 am – 3 pm
Thursday, December 31st, 6 am – 3 pm
Friday, January 1st, Closed
Saturday, January 2nd, 6 am – 3 pm
As we all come together at Market throughout the season, the safety of our staff, standholders, and patrons will continue to be a priority. All additional safety measures related to COVID-19 are in effect, including the required use of a mask or face shield to enter Central Market and the request to allow six feet for social distancing whenever possible. The single entrance will remain by Penn Square with exits located along Grant Street.
And finally, we hope you can #GiveExtra on November 20th during the annual Extraordinary Give.  From managing day-to-day operations to cultivating vibrant relationships between those who grow our food and those who are nourished by it, the Central Market Trust plays a pivotal role in ensuring that Lancaster Central Market continues to thrive in the heart of the Lancaster Community. Now more than ever we look to the community for support.
We look forward to greeting you at Market this holiday season.