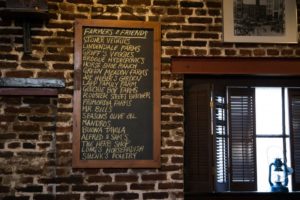 Tucked along Fulton Street on the east side of the City, the Horse Inn has been a local restaurant since 1920. In fact, it's the longest continuously running restaurant in the City, a detail which made the telling of its relationship with the longest continuously running public market in the Country a natural fit for our first in the Stories of Market series.
Matt Russell and his wife, Starla, own the Horse Inn, a Lancaster staple that offers delicious, seasonally focused meals and one-of-a-kind cocktails in a cozy environment. It is a special place where local reigns and inspires dishes on a daily basis.
For four years, Matt has been visiting Market at least two times each week, curating recipe after recipe with many of the local goods that Market has to offer. So much so that Matt noted, "Most of what I do is from this building."
"It's a lot of the just straight connection with the farmers and the producers. That's very important to me, what we do, and what the Horse Inn does," he said. And those relationships are celebrated on the chalkboard hanging on the back wall of the Horse Inn dining room, many of which are Lancaster Central Market Standholders.
Matt remembers coming to Market as a kid, but his relationship with the 1889 Market House quickly blossomed when he began working in a local kitchen.
"I grew up here. I started cooking at The Pressroom, and it was right across the street. So that's where I really got introduced to Market – just coming over as a young cook and being amazed at what was available here." He added, "It kind of sparked my interest for my whole career."
Even while spending years in South Carolina, that spark never left. Matt said, "I've always loved Central Market. I've got it tattooed on my arm, and it's been there for 12 years. So before I even moved back here, I knew at some point I'd be back to Lancaster."
With passion and connection like that, it was not surprising that Matt was able to reveal such a unique memory from his time spent here at Market.
His favorite part of Market itself might be "the architecture – just looking up at the ceiling while I'm here," but of his favorite memory, Matt shared, "Elmer Stoltzfus [of Stoner's Homegrown Vegetables] invited me to his house for dinner a couple years ago for a true Amish dinner. We had elk and black bear burgers that Elmer, I believe, had shot himself with a bow and arrow, and it ended with a buggy ride with my son. It was incredible."
It was story enough to make any Market-lover swoon.
Though not a poet by his own admission, Matt exuded a passion for Market with just about every sentiment he shared during our time together. But nothing spoke to that more than when he said, "I hope everybody knows how important this building is to the City itself and to local restaurants, and just continues to love this place."
Perfectly put, Matt. Thank you.
And thank you, Market friends, for coming along with us on this journey as we share Market stories from members within the Lancaster Community! Tune in next Wednesday for our next Stories of Market installment.
(Header image courtesy of HorseInnLancaster.com.)