Gladys and Market
April 18, 2018
The original seed for Stories of Market was planted last September after meeting a woman named Gladys while taking in the beauty of some oscar milkweed bunches at Thomas Produce. We struck up a conversation, and she kindly agreed to share a little bit about what Market means to her.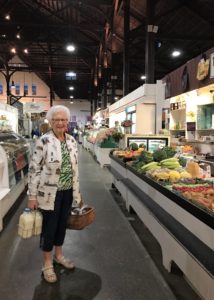 With a basket full of goodies and a wire carrier filled with glass milk bottles in tow, Gladys said, "I love coming to Market, because my mother stood here at stand 71 for 50 years."
Side note: Wow, fifty years!
"We lived on a farm, and my mother grew produce, she baked cookies, and she brought whatever extra we had on the farm, like butter from our two cows. And if we had chickens, she would dress them and bring along their eggs," she reminisced.
It was clear she has a special connection with Market after coming here as a young girl with her mother so many years ago. But what's even more special is how she continues to share Market with her family. She visits each Friday morning to shop with her daughter. After which, she said as her face lit up with a proud smile, "I meet my granddaughter here, and we have a good time."
As to her favorite stand, she most often frequents Groff's Vegetables: "I love Groff's. I get my lettuce there, my homegrown celery, and my radishes – just anything I see there that I like. They're wonderful people."
We think they're pretty great, too, Gladys, and thank you for taking the time to share with us your love of Market!
Up next Wednesday, Scott Smith from Lancaster County Coffee Roasters.