New Fraktur-inspired Market Design
March 28, 2018
We recently worked with local illustrator, and Market-lover, Laura Korzon of Paper Jane on a new design for merchandise at Lancaster Central Market. To celebrate the new design, Laura was kind enough to take a few moments to talk about what Market means to her and the inspiration for the beautiful illustration she created.
She has a bold, modern-folk aesthetic and a penchant for illustrating produce, so we were delighted when she agreed to collaborate on this new design for Market.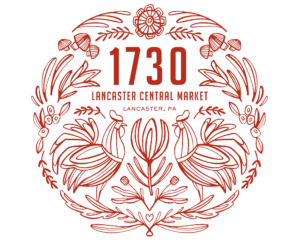 Of the finished design, Laura notes, "I worked closely with the manager of communications, Elyse Pollak, on this design, and we both wanted something that captured the unique character and history of Market. The final result is a round, symmetrical design that features the Lancaster Central Market rooster surrounded by images of local produce and folk art motifs specific to our region. The design draws inspiration from Pennsylvania Dutch Fraktur drawings and traditional hex signs."
And to think, our initial idea upon connecting with Laura was to simply have local produce incorporated in some way. To come out on the other side with such a meaningful piece was an inspiring experience.
It is not a surprise, though, to have received such a thoughtful piece, especially upon learning of just how special a place Market is to Laura: "My mother's family is deeply rooted in Lancaster County. My grandma is a straight up Pennsylvania Dutch woman who taught me that food brings people together! My uncles and cousins are hardworking farmers who depend on the land to make a living. For me, Lancaster Central Market represents many of the simple, family values and traditions that I grew up with."
To her and so many others, Lancaster Central Market is hallmark of the Lancaster Community – one that she feels "captures the great parts of the City and the County all in one." And we couldn't agree more!
Be sure to visit the Information Stand in the northeast corner of the Market House to check out our new Paper Jane design on our canvas Market totes and our all-new Market shopping list (printed locally by our friends at Unique Apparel and Cooper Printing, respectively).
Meet you at Market!