Guts, Heart, and a little Naivety: The Women Business Owners of Lancaster Central Market
March 25, 2021
Lancaster Central Market houses 18 women-owned businesses under its historic slate roof. The added pressures of the COVID-19 pandemic forced many of the small businesses in Lancaster Central Market to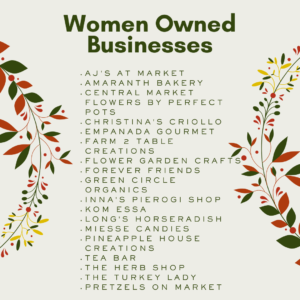 rethink their business models and adapt. Owning a small business can mean being your own accountant, management, operations staff, and retail staff. Add on to that juggling childcare, zoom school, and the ever-changing safety measures; being "only human" quickly takes on a whole new meaning.
In honor of Women's History Month, the Central Market Trust wants to celebrate those women that have worked to keep their businesses afloat throughout this trying year. We spoke with Christina Maldonado (Christina's Criollo), Laura Lapp (Perfect Pots), Laura Sisay (Green Circle Organics), Kari Dandrea (Tea Bar), Tarrah Berrier (Turkey Lady), Sheryl Hazzard (Pineapple House Creations), and Karin Meacham (Forever Friends) about what it means to own a business in Market.
Q: What does owning a business as a woman mean to you?
Kari: It means that I am independent financially and have the choice of making the decisions for the company. It also allows me the freedom of making my own schedule.
Christina: I am just very proud and humbled. I worked hard to get where I am and am super proud that I have been running my own business successfully for eleven years and I did it with only a vision and a credit card.
Tarrah: It was always a dream of mine. I worked for a woman-owned business prior to changing my career to being a business owner. I liked what I did but always wanted to own my own business and make my own decisions. I run my entire business from day-to-day activities to accounting and enjoy the accountability and opportunity that comes along with it.
Q: How long have you been in business at Market?
Christina: April will mark six years.
Laura L: Perfect Pots acquired the Rohrer's Family Farm cut flower stand in the spring of 2019.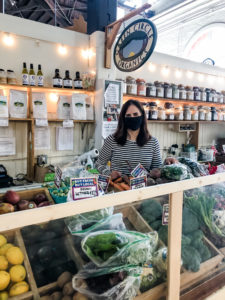 Laura S: 18 years, my first day was March 9, 2003.
Q: Why did you want to have a stand at Market?
Laura L: For years, I dreamt of being a part of the rich history of Lancaster Central Market and longed for my company to have a presence in our beautiful city. When Nelson and Rose reached out upon retirement, I was ready and willing to jump in!
Sheryl: I grew up coming to this market. I wanted to create a product that people wanted to come to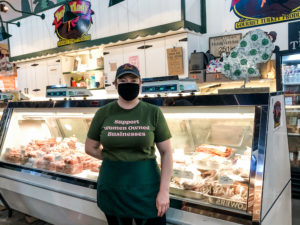 Market for.
Karin: I have a store in the city and always wanted a market stand. The market stand was great for my employees as students because it created more flexible hours to keep them employed.
Q: What did you do before starting your business?
Christina: I worked for Pfizer (now Johnson & Johnson) for eleven years as a forklift operator before going to culinary school and starting a catering business.
Sheryl: Worked in government.
Kari: I was a teacher and a salesperson.
Q: What inspires you?
Karin: I love doing something almost impossible. I love a challenge…my kids were leaving, growing up, and I wanted to keep busy.
Laura L: People inspire me. From my daughters to my creative employees and close friends, it is a joy and honor to witness growth and change and implement that in my own life and business.
Tarrah: Inspiration comes from so many aspects of life. My family has been a huge inspiration always supporting me throughout any endeavor and ensuring I have the necessary assistance to make it all happen. You will see them all at my stand on various market days.
Q: What message would you want to share with young female entrepreneurs?
Kari: Find what makes you happy, go in that direction. Be flexible. Do not be afraid of failure…there is no such thing!
Laura L: Find those people who will support you, and with their support, take that risk!
Laura S: Try not to measure yourself against what other people define as success. And do not be afraid to keep trying if something does not work out the way you thought it would – many of our best ideas come out of what we first perceive as "failures."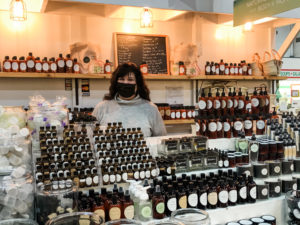 Q: What is the biggest challenge for you as a business owner?
Sheryl: Making time for myself.
Tarrah: Change. Things are always changing…buying habits, the economy, a global pandemic, renovations…there is always going to be change. As it is a challenge, it also provides opportunities and a good reason to evaluate your business. It has been amazing to see all the ideas to adapt to the pandemic and how many companies have actually turned this time into a positive. Life is always a work in progress and change usually ends up pushing us forward!
Laura S: Work/life balance.
Q: What do you love about owning your own business?
Karin: I love to create. I love thinking outside of the box and the process of creating.
Sheryl: I am rewarded because I work hard. I enjoy the relationships I have formed with customers and business contact. I also enjoy reaching the goals I set for myself.
Christina: I love being my own boss and having full control of everything. I feel accomplished and in control of my own future.
Q: What advice would you give to the younger version of you?
Laura L: Do not overthink. Trust your instincts and the advice of people who care to see you succeed- AND YOU WILL.
Laura S: Do not be so hard on yourself and feel like to be a successful woman that you have to do it all. Do not feel guilty about taking time for yourself or your family, and do not feel like you have to follow some sort of perceived ladder to success – we all work at our own pace.
Tarrah: Make it happen! If you want something there is always a way to achieve it. Nothing is out of reach.
Kari: I believe that owning/operating a business requires, bravery, passion, and a dose of naivety.
As nonprofit good stewards of Market, the Central Market Trust is proud to help continue the centuries-old tradition of fresh, local food at Lancaster Central Market. Now more than ever, we need the support of our community.  To offset the costs during this unprecedented time, your contributions will help us continue to provide opportunities for small businesses to bring fresh, local food to Lancaster. https://secure.lglforms.com/form_engine/s/qTkD10QcQi_R9c8IMRsrkQ?t=1521218374