Crowded Kitchen and Market
October 22, 2020
"Opening here with a really loyal community… the local shopping community, I'm so glad."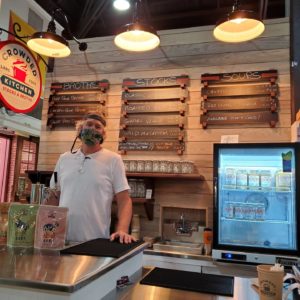 In 2015, Drew Moore left his career and sold his home to follow his culinary dreams to New York City. After five years in the industry, Moore knew food was his passion but he wasn't where he needed to be. "I was looking for a way out of the restaurant life but I love cooking, so I still wanted to be around food. I went to a culinary entrepreneur class and I spotted this gap in premium stocks and broths."
From that realization, Crowded Kitchen was born. Specializing in a variety of stocks and broths what makes Crowded Kitchen unique is their ability to serve fresh on tap. "We found this way to make cold fresh stock and keep it for several weeks and then we serve our product fresh from a tap. We keg our stuff and we are the first company in the world to do it." Visitors to Crowded Kitchen will receive their fresh product in jars. The initial jar comes with a $1 fee but when the jar is returned the next purchase will be discounted $1. Offerings include bone broths, traditional stocks, and unique flavors such as wild mushroom stock.
With ingredients like grass-fed beef, pastured chickens, organic produce, herbs, and spices sourced locally even the simplest soup can be elevated. Something Moore demonstrates on Market days, "We try to have at least two soups hot and cold. A lot of people really don't realize what a high-quality stock can do so we showcase really simple soups."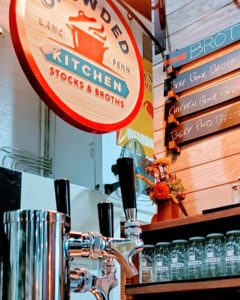 A visit to the stand will prove to be both delicious and informational for those interested in trying something new. Crowded Kitchen is open Tuesday, Friday, and Saturday from 6 am – 3 pm in space 5. More information can be found at https://crowdedfoods.com/.