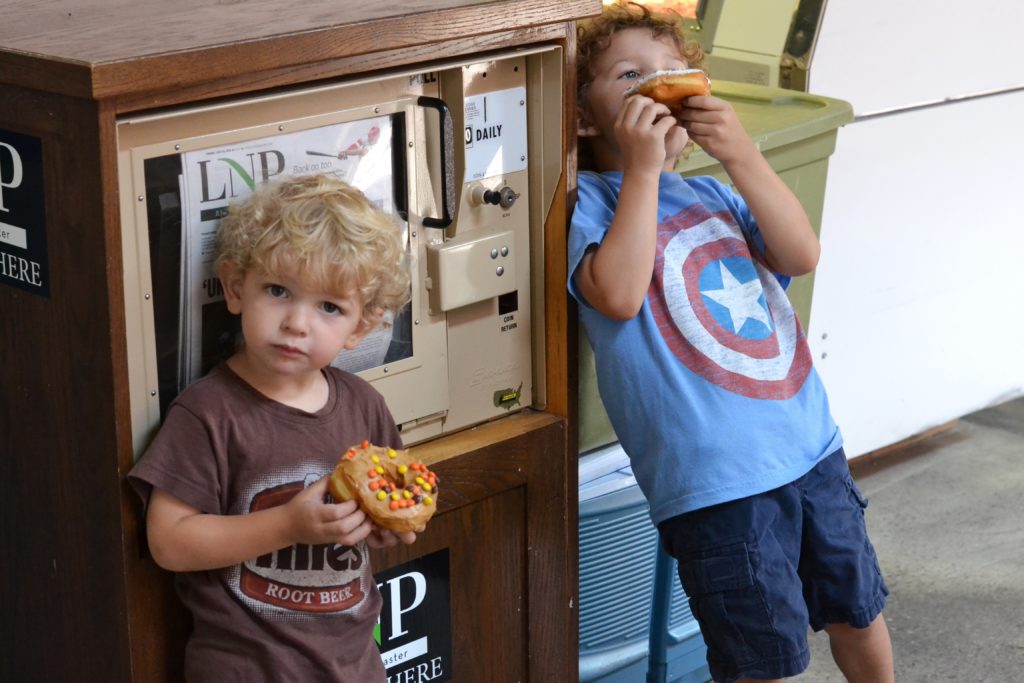 As her adorable sons, Thatcher and Coltrane, proudly walked down the south side aisle with donuts, affectionately called "bribe food," from Shady Maple clenched in their tiny fists, Jessica said, "They're Market kids."
And with that simple phrase, a million happy thoughts were launched into the Market Stratosphere with hope for the next generation of Market-lovers. What is the Market Stratosphere, you may ask? Why, it's that space just below that beautiful, expansive wooden ceiling we all know and love. Still not sure? Just take a quick glance up the next time you're here.
It is no wonder that Thatcher and Coltrane have gained "Market kid" status. Jessica shared that she and her husband, Nate, are going on 10 years as Saturday regulars – since they met, "We met through friends. I had been coming to Market on a habitual basis as an adult. He came here a bunch as a kid, but not really much as an adult. And so when we met, we started to make Saturday mornings a routine."
Part of what she loves about this place so much is the Market community, sharing, "It's just a cool community in here. And I know there's a ton of history to it, too, but even beyond that – if that wasn't there – there's just a cool community in here."
That community continues with her when she travels, too, as she shared, "I have traveled with boxes of Achenbach's, all over the state of Pennsylvania. We're going to visit a friend in Ireland in a few months, and I will travel with a box of Achenbach's, because even day-old Achenbach's are better than no Achenbach's." A sentiment that surely rings true for many a Market-lover.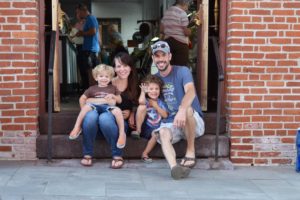 Not only has Market played a special role in their refrigerator and on their dinner table, but it has played an instrumental role in their story as a couple, too. They became engaged on the street right outside the entrance nearest Central Market Juice, one of their favorite stands, and Dipco.
Reminiscing of their engagement, Nate said, "It was an impromptu one. We took a walk from her apartment, which was at the corner of Lime and Orange. We were walking the dogs, and she said, 'I have to go to dance class,' and I said, 'Just walk with me. Please just walk with me.'"
They kept walking along Market Street, and he started thinking about all the time they'd spent together at Market and asked her to look through the window. When she turned around, though, he said, "Both our dogs sat at the right time, which is typically completely uncontrollable. And so I proposed to her right there on the step. What's funny was, everybody was eating dinner at Dipco, and they're all watching everything – the crying, the dogs."
Nate continued, "That was 2010. We got married in 2011. So now, it's kind of our spot, and everybody knows our boys here. It's a family thing now. I grew up going here, we go here, we're hoping our boys go here. They love it here."
Here's to all the Market kids out there, and all the families out there who have made, and continue to make, Market a part of their family story.