Commonwealth on Queen and Market
August 23, 2018
Since she was a kid, Rachael Vieni Reinmiller, owner at Commonwealth on Queen, has had a soft spot in her heart for food. A love that has blossomed from time in the kitchen with her mother as a young girl to the seemingly unconventional start of a lovely café.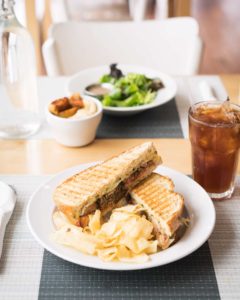 "It's how I was raised," Rachael said. Attributing her early appreciation for fresh, healthful food to her mother, she continued, "My mom – still to this day – has a massive garden. She grew and made a lot of our baby food, and was really intense about what went into our bodies, what was healthy for us."
Rachael began working in the food industry with her very first job at a bakery across the street from her childhood home. Of which she said, "It was more out of convenience than anything else, but I fell in love with it really quickly, and then it just sort of became all I knew."
For years, Rachael worked in various restaurants in every role imaginable. It was upon moving to Lancaster, though, and working at a not-yet-open John J. Jeffries when she made the decision to go to culinary school.
"I was really lucky to be able to experience and see that," Rachael said of her time at both John J. Jeffries and culinary school, referring to the unique art of local, sustainable sourcing at John. J. Jeffries and the eclectic variety of chefs from whom she learned in Philadelphia at culinary school.
Her time at Commonwealth on Queen originally began with an offer simply to manage a not-yet-named café in Lancaster City, but which quickly became a partnership. Rachael hit the ground running in the only way that made sense to her, feeding people fresh, locally sourced, healthful food.
"Our niche is that we are a fresh café that features local ingredients on a seasonal, chef-inspired menu," she shared of Commonwealth on Queen. For this, Rachel is grateful for the café's proximity to such fertile land, sharing, "Especially living here in Lancaster, in this City in the middle of all of these farms. I like a good story, so every ingredient we have, I can tell you why and who made it, and I really love all of that."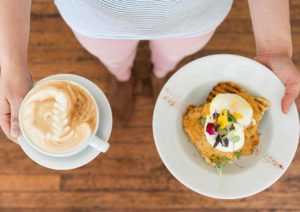 With being just down the street, Market became a place where Rachael could cultivate those stories.
"I'm inspired by Market and grateful for it," she said. "Before the café was even open, for our first menu, the very first edition of our tiny menu, I literally just walked through Market and saw the ingredients that I liked, that I knew would be available to me seasonally, and ongoing."
A bit more calculated now, Rachael and her team let their diverse palates complement one another and guide them through Market when curating their menus, keeping it simple so as to let the seasonal ingredients shine.
Rachael visits Market two days each week, with standing orders at a few stands and day-of orders at others. Not only is she proud to have Market as a blocks-away resource for fresh food, but she's gotten pretty good at her Market shopping, too. She chuckled, "I can get in and out in about 30 minutes. I pretty much have it down to an exact science."
Just as Market is for the community, Rachael shared a similar, beautiful sentiment about why she does what she does, "We're commonwealth. We're for the people." It is a simple idea, stemming from her lifelong appreciation for the fresh, healthful food that she continues to share here in Lancaster.