Mayor Sorace and Market
May 17, 2018
She walks into the Market Office toting a canvas bag filled to the brim with fresh produce, and asks for help in not forgetting to have her empty milk container filled before she leaves. Chuckling, she notes that this is "'legit' how I walk around." Her honesty is refreshing.
It is a blue-skied Spring day, and she quickly recounts her feelings on the walk in, which leads us perfectly into our time together, "I have to say – just walking down here today – it's like Market is a heartbeat."
Her relationship with Market began many years ago when she and her husband first moved here. As a newly minted Lancastrian with an 18-month-old daughter and a husband who traveled for work, Mayor Sorace said, "We would walk to Market two, sometimes three, times a week, and it was where we just started meeting people."
She continued, "I met one of my now-best friends at Market. I saw her at Market with a daughter about my daughter's age, and I just thought, 'I need to meet her.' And now 10 years later, our daughters are celebrating their birthdays in June, and we're taking a trip together. It's been like creating a family."
This family includes fellow Market-goers and Standholders alike: "There's the Standholders, too, that I've gotten to know over the years, who have been just wonderful. So my relationship with Market has been a 10-year, evolving relationship."
It is a relatively natural space for her to feel comfortable. Access to fresh food is something Mayor Sorace holds near and dear after growing up in a rural area with a family who always had a garden, and it was "such a treat" to find fresh food in abundance after moving to Lancaster from New Jersey.
She reminisced with a laugh, "I would get totally out of control, because I would come here and buy all this stuff. And then my husband would ask, 'Who are you even feeding?'" She would fill her bags with bulk lima and green beans to blanch and freeze from Earl Groff, or apples for applesauce, et cetera. So to her, she said, "It – coming to Market – was just connecting to the agricultural heart of what Lancaster County is, and to my roots growing up."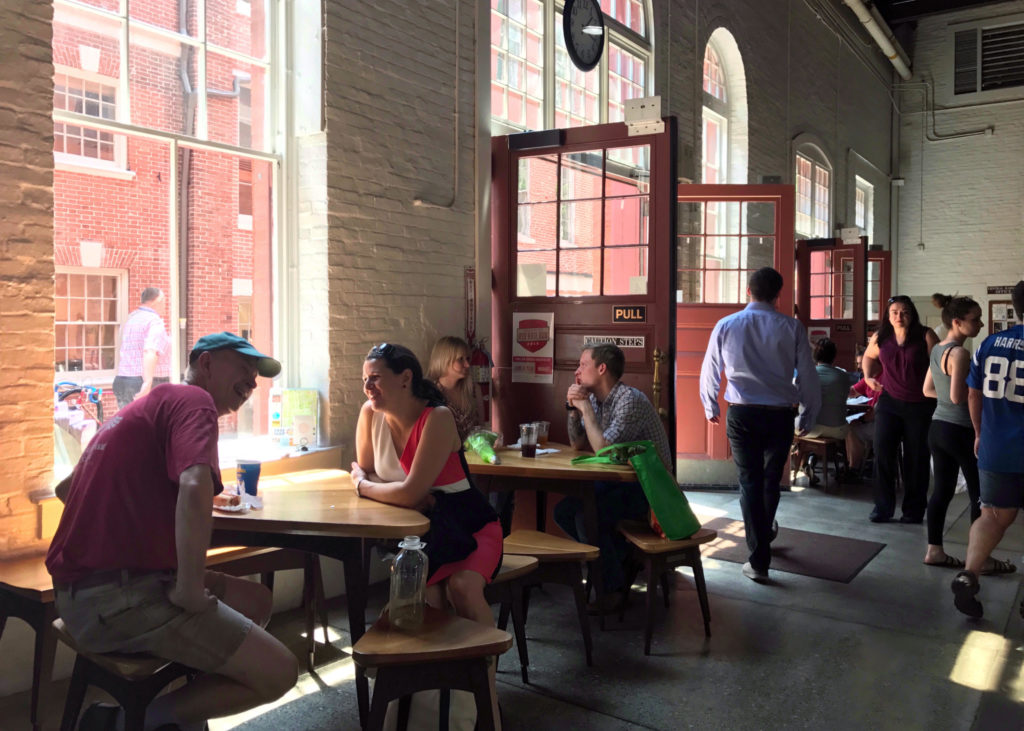 The idea of connection was woven through nearly our entire conversation. Connection with her roots and her family. Connection with the Lancaster community. And even connection with the deeply historic nature of Lancaster, of which Mayor Sorace said, "That this Market is still here and still strong after all these hundreds of years is pretty remarkable, and for the Lancaster Community, it will hopefully continue to be that gathering spot."
We hope so, too, Madam Mayor.
Before we part ways, we take a stroll along the south aisle of the Market House for a photo, when I hear her say, "Oh, let me say 'hello' to Gene."
She takes a few moments to catch up with him, introduces the two of us, and then proudly exclaims, "See, another connection!"