Lancaster County Coffee Roasters and Market
April 25, 2018
Roasting coffee is a passion for Scott Smith, who started Lancaster County Coffee Roasters in the early 2000s with his brother. They found a spot on Ross Street on the East Side of the City, purchased a piece of roasting equipment with a partner, and the rest is Lancaster coffee history.
"Everyday we're roasting something – more or less," Scott says of their specialty small-batch roasting.
"We bring in beans from 15 degrees north and south of the Equator – a place called the Coffee Belt – where it can be grown, because it's more of a tropical climate product. It's actually a seed in a piece of fruit. They break the seed out of the fruit, and they put it out on these big patios to air dry."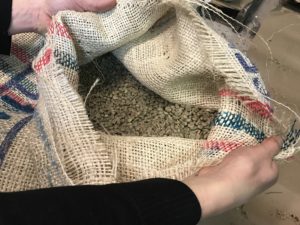 The beans are bagged in burlap and imported from countries in Central America, South America, and Africa to right here in Lancaster. Upon arrival, roasting proceeds in small batches to curate the unique, handcrafted coffee that makes Lancaster County Coffee Roasters special.
Their coffee is then packaged at the same facility and ready for distribution to its final home – your favorite mug. Whether that mug is in a restaurant, a workplace breakroom, an office waiting room, or on your very own kitchen table is up to you, because Lancaster County Coffee Roasters is behind many a cupa joe throughout the County, including Market – their first and only retail location.
"Most of what we do is partner with wholesale accounts, so restaurants, private label customers, grocery retail, a little bit of web business, and offices," Scott said. "We had no retail prior to Market."
And though Lancaster County Coffee Roasters has only been its own stand in Market for six years, their coffee preceded them at Market House Coffee & Snacks for many years where it was served as house choice. The thought of bringing a proper Lancaster County Coffee Roasters stand to Market became more prevalent with Scott as time went on.
He said of his relationship with Market, "My wife and I were casual shoppers. I wouldn't say I was a regular by any means, but I always appreciated Market just because of the sense of community you have when you're there. It's just a unique atmosphere. And I always had that sense of appreciation, but the business side of me knew, 'You know what, we can improve upon what Phil [owner of Market House Coffee & Snacks] was doing as our customer – that there was room for more coffee expression down at his stand.'"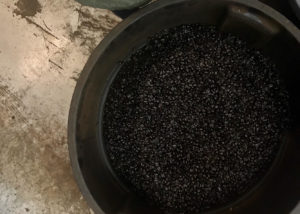 As one could imagine, excitement reigned when, "Lo and behold, a couple of years later, Phil came in one day to pick up an order and said, 'Let's talk,'" Scott said. They took a risk in eliminating 40 percent of the non-coffee items currently being sold at the stand, bought an espresso machine, and jumped in whole-heartedly with their coffee-centered menu.
Needless to say, they never looked back. With a menu boasting both hot and cold beverages ranging from pure cups of coffee and artisan lattes to cold brew in the Summer and specialty teas, their menu offers something for everyone.
Of said risk, Scott is grateful, "In hindsight, it's worked out okay for us – something I'm not emphasizing enough. It's just been a real blessing for us, and I've always just felt really great about being able showcase our coffee at Market. I'm so happy that things worked out for us to be a part of it and keep it going."
We are equally happy to have you and the Lancaster County Coffee Roasters team at Market, Scott, and look forward to many more years of having you share your craft brew with the community that visits Market each week.
(Header image courtesy of LancasterCountyCoffee.com.)