Soulcialize and Market
August 12, 2020
When Corey Woods took over Rafiki's African Deli in early 2020 he had big plans for the stand.  What he could not predict was the coronavirus pandemic and how it would shape his business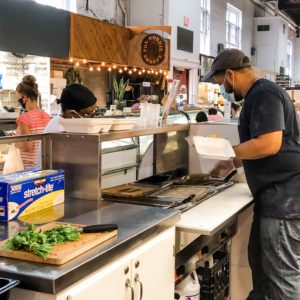 over the next several months. "It started off…I would say it was average but then COVID came and things weren't good, but then we switched the  product line to soul food, which I was a lot more comfortable with, and we worked with different organizations and people to help me promote."
With the introduction of his signature soul food and rebranding the stand to align with his Soulcialize Catering business, Woods has seen business increase, but also awareness, and not just for his famous mac and cheese.
"It's exciting, it's really exciting…when I thought about it originally it was like yeah there is no soul food [in Market], I didn't really think so much about the cultural impact, but as I dug deeper into the soul food and looked at the origins…it just was kind of a natural progression" A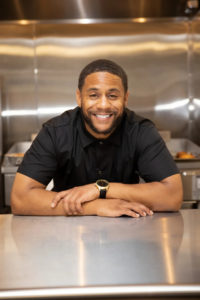 progression rooted in Black culture, that made for a natural transition from North African cuisine to the flavors of soul food including spareribs, fried chicken, collard greens, and shrimp and grits.
With a passion for flavor, Soulcialize has quickly cemented itself in the Market community. A community that Woods takes pride in and provides a platform for him to give back; most recently, in the form of a Back to School drive for supplies and PPE. "There is so much diversity here, there is so much tourism traffic through here, and so much tradition, it's a win-win all around. I called the business Soulcialize because I wanted it to have a social aspect. No matter what I am doing I always want to help and be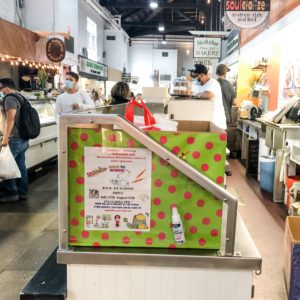 a positive influence and be a positive place in society…my son goes to Wickersham [Elementary School] and it was just natural to use the platform that I have and the relationships that I have. Everyone wants to make sure these kids have what they need and are safe."
Soulcialize will be collecting donations through August 16th. Donations boxes can be found at Central Market, Champs Barber School downtown, Lancaster Fire Station #3,  and MY Shop barbershop.
You can find Soulcialize at stand 53.