"Think of it as a wonderful cooking and eating surprise," Brittany noted of their new online-to-delivery model of sharing farmed goods with the community.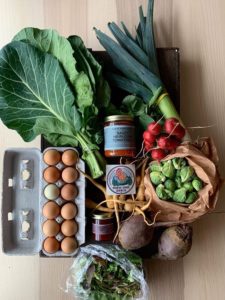 Earlier this year in February, Brittany and Bryan Donovan excitedly shared that they have a tiny farmer of their own on the way. Little did they know, a month later they would be faced with an impossible decision to pause their Market business for the safety of their growing family.
"With us unable to be at Market safely due to a baby on the way and knowing farming couldn't come to a halt, we knew we would have to act quickly," Brittany shared of their decision to shutter their stand for the time being and transition solely to online ordering and no-contact delivery.
She continued, "We had experience with the CSA subscription model of farming in the past, so we just adapted it." They updated their website to include an online ordering system, tested it with some of their friends on social media, and rolled it out within a few days of their stand closing.
After navigating a few challenges like sourcing enough boxes and egg cartons, they remain grateful to the Market community and beyond. "We have been genuinely blown away, and never thought it would go this well," she reflected.
With local drop-offs on Wednesdays and Fridays, customers may choose from two varieties of seasonal produce boxes, fresh eggs, jarred goods, and the remainder of their fresh chicken to be included in each of their orders.
To order online, visit www.horseshoeranchpa.com.
-Elyse Pollak 
***
As nonprofit good stewards of Market, the Central Market Trust is proud to help continue the centuries-old tradition of fresh, local food at Lancaster Central Market. Now more than ever, we need the support of our community.  To offset the costs for the standholders during this unprecedented time, your contributions will help us continue to provide fresh, local food. https://secure.lglforms.com/form_engine/s/qTkD10QcQi_R9c8IMRsrkQ?t=1521218374