Late Summer's Bounty – Farm-Fresh Meal
August 28, 2022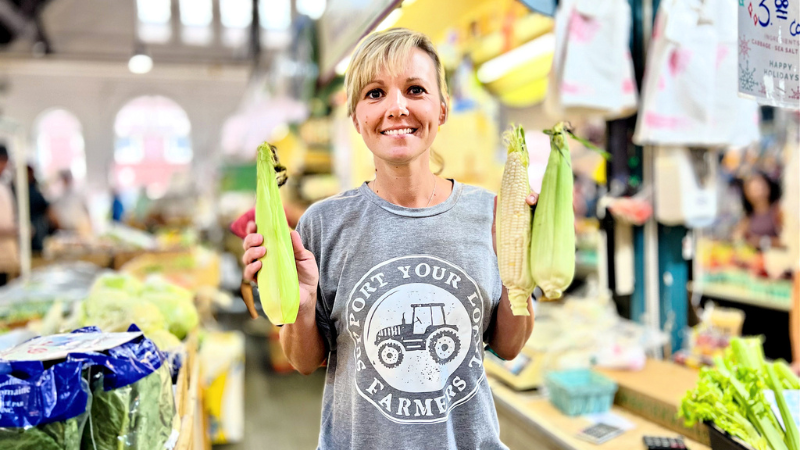 Sun Dried Tomato Pasta with Sweet Corn & Basil
Late summer's bounty is prime time for fresh produce; corn, tomatoes, and basil create a perfect summer meal.
INGREDIENTS:
🔸 8 cups of water
🔸 1 Tbsp of salt
🔸 1 lb. orecchiette pasta
🔸 ½ cup of large diced, sun-dried tomatoes packed in olive oil
🔸 1 Tbsp of oil from the sun-dried tomatoes
🔸 1 cup of vegetable broth
🔸 4 ears of fresh corn, kernels cut from the cob
🔸 1 pint of cherry tomatoes, halved
🔸 1 oz. fresh basil
🔸 ¼ cup of heavy cream*
🔸 Salt, pepper, and crushed red pepper to taste
🔸 Olive oil
🔸 A handful of fresh, small basil leaves or large leaves torn into pieces for garnish
🔸 Grated parmesan cheese*
EQUIPMENT:
Small chef's knife
2 stock pots
1 wooden spoon for stirring
1 colander
INSTRUCTIONS:
1.   In one stock pot (the smaller if you have 2 sizes) add the 8 cups of water and the tablespoon of salt, place on the stove over high heat to bring to a boil.
2.   In the second stock pot, add the tablespoon of oil from the sun-dried tomatoes and place over medium heat. When the oil is hot, add the diced sun-dried tomatoes and sauté for 4-5 minutes. Then add the corn kernels and continue cooking for another 3-5 minutes. Season with salt, pepper, and crushed red pepper to taste. Pour in the vegetable stock and bring to a boil. Then add the pint of halved, cherry tomatoes and reduce to a simmer. Simmer for 15 to 20 minutes.
3.   While the sauce is simmering, cook the pasta, al dente, in the first stock pot once the water has come to a full boil. When finished, reserve about a cup of the pasta water and drain the pasta into a colander and set aside.
4.   After the sauce has finished simmering (the liquid should be reduced by about half) taste and season as needed then add the sliced basil and stir to combine. Add the reserved pasta water to thin the sauce, as needed, then add the heavy cream and stir to combine. Finally, add the al dente pasta and stir with the spoon until all the pasta is evenly coated.
5.   Divide among bowls, drizzle with a good quality olive oil, and garnish with the basil leaves, top with a sprinkle of parmesan cheese and serve.
Enjoy.
*Note: You may eliminate the cream and parmesan to make this recipe vegan, which is still delicious.