Celebrate Summer Recipe
June 29, 2022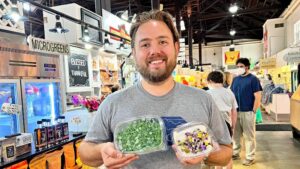 Celebrate the Season All Summer Long!
Conner Smith can be found at the Fox & Wolf Stand #39 at Market. He fills his stand to the brim each week with USDA-certified organic produce, eggs, and farm flowers from a generational farm in Pine Grove started by his great-grandparents in 1900.
Our Mystery Market Chef created a summer salad inspired by two Fox & Wolf farm offerings. The dish combines incredible flavor, lovely textures, and delightful eye appeal. It is also super simple to make for a summer salad that will enhance any meal. Enjoy the full recipe for Pea Shoot Salad with Asian Dressing
INGREDIENTS
Dressing:
Amounts to taste:
•      Cilantro, finely chopped
•      Fresh Mint leaves, finely chopped
•      Fresh Ginger, peeled and grated
•      Fresh Garlic, grated
Measured ingredients:
•      3 Tbsp Sesame oil
•      2 Tbsp Soy Sauce
•      1-1/2 tsp Brown sugar
•      2 tsp Rice vinegar
Salad base:
•      Pea Shoots, at least 2 cups/serving
•      Cucumber, thinly sliced
•      Radishes, very thinly sliced
•      Sliced almonds, toasted and divided
•      Edible flowers
EQUIPMENT:
•      One small bowl for dressing
•      Whisk
•      One large bowl for salad
•      Very sharp small knife or a mandolin for slicing
•      Baking sheet
INSTRUCTIONS:
•      Gather your ingredients
•      Gather your equipment
•      preheat oven to 325F
•      While oven is preheating, combine the ingredients for the dressing into a small bowl and whisk to combine then set aside.
•      Spread the sliced almonds on your baking sheet in a single layer and toast in the oven until slightly browned (be watchful because they go from browned to burned very quickly about 7-10 minutes depending upon your oven}
•      Slice the cucumbers and the radishes and add them to the salad bowl.
•      Add the Pea shoots to the bowl.
•      Add half of the toasted almonds to the bowl.
•      Combine the dressing with the salad and toss the coat all of the ingredients.
•      When ready to serve, sprinkle some of the remaining toasted almonds and some edible flowers on each serving.