"Honestly, no," Ben chuckled when asked if he sleeps anymore. "It's a family business, so I have a lot of passion and drive keeping me going."
By the end of March, Lancaster County found itself with a shelter-in-place directive, and Ben Barr, just a few short days after that, found himself with a brand new website and business model.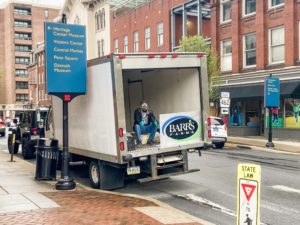 "We didn't even have a website. Me and my wife, Paige, stayed up all night for three nights in a row to build a website and create this place where people can order their produce online," he shared, at the time unsure of whether or not Market would be included in mandatory business closures.
It's a whole new landscape, but they're rolling with it. Their full Market offering is available, from apples to onions, with each order being packed neatly into a box ready for transport and seamlessly served off the ramp out of the back of their truck. Customers can choose one of two minimal-contact pick-up spots each week on Tuesdays and Saturdays in Lancaster City and Willow Street.
And the Market community is rolling with it right alongside them, as Ben reflected, "When people come to get their produce, they're so thankful. It's great to feel like you're part of the community and something bigger. I honestly didn't expect this to take off, especially that quickly."
To order online, visit www.barrsfarms.com.
***
As nonprofit good stewards of Market, the Central Market Trust is proud to help continue the centuries-old tradition of fresh, local food at Lancaster Central Market. Now more than ever, we need the support of our community.  To offset the costs for the standholders during this unprecedented time, your contributions will help us continue to provide fresh, local food. https://secure.lglforms.com/form_engine/s/qTkD10QcQi_R9c8IMRsrkQ?t=1521218374