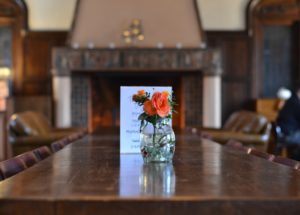 After taking a more than 20-year hiatus from the restaurant world, Ed Diller is back.
"I love what I do," he shared, and you can tell.
Nestled on the campus of Lancaster Theological Seminary in Dietz Hall, you'll find Gypsy Kitchen, a uniquely beautiful dining space with food that is equally delicious, if not more so.
Its start was a little more unconventional, but that simply adds to its charm. He and his wife, Ellen, a pastry chef, started catering, "but we didn't have a kitchen, so we'd rent one. Gypsy Kitchen came from not having a kitchen. If somebody wanted to do something, we'd have to find kitchen space."
Ed was connected with The Seminary shortly after catering an event for The Demuth Society, and the rest is history. He said, "The Seminary is a nonprofit, so they can't just lease space. There has to be some kind of connection, so the connection is we have to be open for lunch, and then we decided to be open for dinner."
Guests at Gypsy Kitchen are treated to a seasonally written menu curated to include an abundance of fresh, local ingredients, many of which are sourced from Market.
His relationship with Market began in The Seventies. Ed shared, "In 1973, before I started Jethro's later in 1978, I was at a place called the Rextaurant, and that's when I started shopping with John Stoner."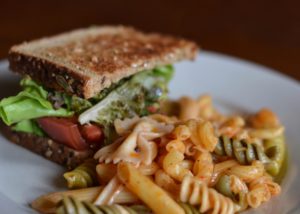 Now that he is back with Gypsy Kitchen, Ed has rekindled his relationship with John Stoner and other Standholders at Market to bring his menu to life.
"I come to Market two days – Tuesdays and Fridays. I have standing orders that I pick up on Fridays, and on Tuesdays, mixed greens is a big item," he said of his weekly visits to Market.
From goat cheese at Linden Dale Farm, which he feels is "magnificent," to Philly-style breads at Central Market Juice Company, Ed shared with us a portion of his list, along with why he makes it a point to shop at Market.
"Quality." So simply put, he continued, "How could you not? I get Spring mix here that is growing and picked on a Monday, and I get it on Tuesday."
Thank you, Ed, for so simply and kindly capturing all that Market is.
· · ·
As nonprofit good stewards of Market, the Central Market Trust is proud to help continue the centuries-old tradition of fresh, local food at Lancaster Central Market. Please consider supporting the mission of the Trust in honor of Market on Friday, November 16, during the Extraordinary Give. Join members of the Trust at Market from 10 am. to 2 p.m. for small bites, warm apple cider, and donation stations, or visit extragive.org and search Central Market Trust at your giving convenience.