The History of Market
A walk through the history of Lancaster Central Market begins with the birth of a town amidst a bucolic landscape and continues on with a centuries-long tradition of food and fellowship in the heart of a thriving community.
A Modest, Purposeful Beginning
Lancaster Central Market was born in 1730 on a 120-square-foot plot of land conveyed by Andrew and Ann Hamilton from their private estate. Here, farmers would cart their bounty from the surrounding fruitful land to the heart of the nearly settled municipality to sell their wares in the now-public, open field.
This early market was an important, encouraging factor in King George II designating Lancaster as a market town. And upon its official charter as a borough in 1742, the royal decree proclaimed Lancaster was to hold "two markets in each week … of the year forever in the lot of ground already agreed upon for that purpose and granted for that use."
Early Market Growth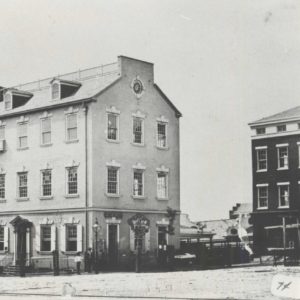 In the years following its official charter, Lancaster set forth in embracing its coveted designation as a market town. A market clerk was appointed. Six stalls were built toward the end of 1742 to heed newly written market regulations.
And by 1757, the Lancaster Burgess erected the first official market building, though most likely just a simple, open-air structure with stalls and a roof. This arrangement continued to evolve through the years along with Lancaster, until finally being replaced in 1889 by the beautiful Market House that stands in Penn Square today.
Curbside City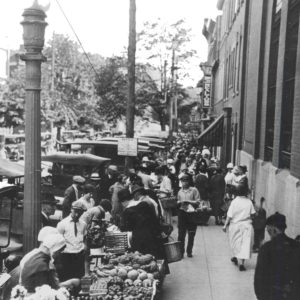 Since the early days of coming to market in 1730, sellers' carts, rough stands, and baskets spilled beyond that first open field, and subsequent buildings, to the surrounding area as municipal infrastructure grew.
Sidewalks up and down King Street, and out Queen, Duke, and Vine, as well, were bustling with sellers packed along them. This market atmosphere continued well into the 19th and early 20th Centuries, serving as testimony of how essential to daily life the buying and selling of fresh, local goods had become in Lancaster.
Markets and the City
By the mid-1800s, private sector financiers began encroaching on the public market space in the center of the City. Four private market buildings were constructed: Northern Market, Western Market, Eastern Market, and Southern Market. However, with their creation, concerns arose that these privately held markets harbored unsafe and unethical practices, and a breaking point was reached in 1873 when private investors approached the City about leasing public market space. This request set the wheels in motion for a public works project to build a proper municipal Market House.
An Impressive Romanesque Revival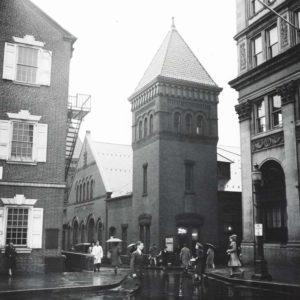 Not to be outdone by the rival, yet well-appointed, private markets that infiltrated Lancaster, the City entered into contract with English architect James Warner early in 1889. With an eye for simple grandeur, his official plan featured a red brick façade, two terracotta-topped towers, and an expansive slate roof.
The project began with a groundbreaking in June, and was completed just five months later in late Autumn. And since its dedication and reveal in November 1889, Lancaster Central Market has continued to welcome visitors each week to share in community fellowship, local commerce, and most importantly, a love for fresh, sustainable food excellence.
The Guardians of Market
Since its inception in 2005, the Central Market Trust has embraced its role as good steward for Lancaster Central Market. A nonprofit organization comprised of citizen volunteers, current Standholders, and City of Lancaster representatives, the Trust is dedicated to maintaining, preserving, and sharing the unique history of Market within an ever-growing community.
Donate to Lancaster Central Market
From managing day-to-day operations to cultivating vibrant relationships between those who grow our food and those who are nourished by it, the Central Market Trust plays a pivotal role in ensuring that Lancaster Central Market continues to thrive in the heart of the Lancaster Community as a hub for fresh, local, and sustainable food excellence.